Across the (By)Line: Kansas Jayhawks basketball
The "Across the (By)Line" series will give Kentucky basketball fans an in-depth look at their opponent for this week — from the mind of the opposing school's sports editor.
This week: The University Daily Kansan, Joe Blake, Kansas
Seeing Kansas lose three straight games was a surprise. What do you think went wrong for the Jayhawks?
I think one of the biggest things is that they haven't found a consistent second scorer. Jalen Wilson has obviously (done well) the last three games during this losing streak. He had 38 against Kansas State and 31 against TCU. He's putting on good performances and then the secondary scorers aren't really showing up the way that they should be.
I also think not having a presence inside – KJ Adams had a streak of at least 10 games where he was scoring in double figures and that went away at the start of this losing streak. Not having him being a scoring threat has really diminished a lot of what this offense is doing.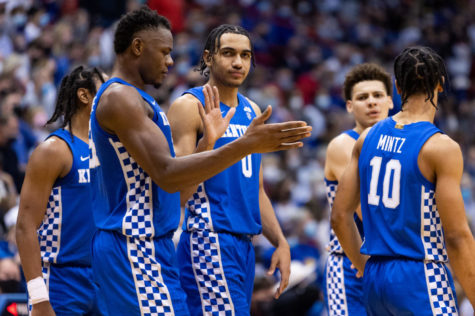 Then also I think their energy has run low. They had a lot of close games that ran really close together. Coach (Bill) Self even said that they weren't playing defense with the same urgency that they had been earlier in the year and earlier in Big 12 play. So, this five-day break will (make it) interesting to see what kind of energy they come out with on Saturday.
Do you believe in the superstition that 'Blue Bloods' never lose four in a row?
Yeah, it was the 88-89 season, which was the first season under Roy Williams straight after the national championship, that was the last time they lost four in a row.
Bill Self has been ultra-consistent throughout (his tenure). I can remember – I've been watching Kansas basketball my whole life – where I was the first time I witnessed the Jayhawks lose three straight so it doesn't happen very often. Bill Self has been a pillar of consistency since 2008 and even throughout his entire tenure the Jayhawks haven't been any lower than a No. 4 seed in the (NCAA) Tournament.
He's always been able to provide great regular seasons so when they do lose three like this it does raise some concern around Lawrence, but at the end of the day they have Bill Self at the helm. The panic is there but nobody is calling for his job or anything like that. There's still complete trust in the Jayhawks.
Is Kansas coming to Kentucky with revenge on the mind after the blowout in Lawrence last year?
I think to an extent, yes. Jalen Wilson and Dajuan Harris (Jr.) were both integral parts of that team (last year) and are going to want revenge. It was definitely a low point in the season. But I think at the end of the day it's just another big game on Kansas' schedule. They've been playing in big games all year and the revenge factor is there, but it's not the driving point of the game.
What do you think the final result will be when these teams face off?
I see this game going 82-77 for the Jayhawks. I think they get back on track. I think Bill Self has got an incredible road record against very good teams and I think Kentucky is starting to prove that they're a really good team.