Kentucky snaps five-game losing streak with win over Florida
Kentucky womens basketball (9-9) earned its first conference win of the season over the Florida Gators, winning 81-75 on Sunday.
The win ended a five-game losing streak that included tough losses to ranked SEC opponents including No. 1 South Carolina.
With the Gators leading 18-10 to open up the second quarter, Florida guard KK Deans hit four 3-pointers in the first two minutes that began a 12-4 scoring run and resulted in a UK timeout. The decision proved to be the right one, as Kentucky erupted for a 13-2 run after the timeout. 
The Cats shot 40% from the field and 12.5% from beyond the arc, hitting 82% of their free throws, with scoring being led by veteran Robyn Benton, who recorded a career-high 29 points with five rebounds and two assists.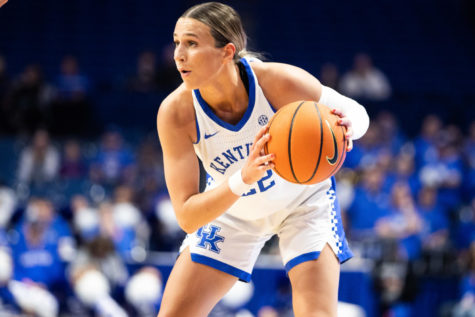 Junior Maddie Scherr and sophomore Jada Walker also provided 18 and 19 points respectively to complement Benton's career night.
Florida shot 42.2% from the field, 33.3% from deep and 53.6% on free throws.
Deans led the scoring for the Gators with 21 points, eight rebounds and five assists, with some help from senior Nina Rickards, who notched 18 points, and Ra Shaya Kyle, who finished with 13 points, to keep the game close.
Ultimately, the defense and efficiency from the free throw line, especially in crunch time, were the keys to success in Kentucky's first SEC win of the season.
Florida slightly out-rebounded Kentucky, but also recorded 24 turnovers, 17 of which were steals by the Kentucky defense.
With the win, the Wildcats remain the leader in all-time meetings against Florida, holding a 35-27 record against the Gators, and, with this game, took the lead in games in Gainesville, now having won 13 out of 25.
The win over the Gators put Kentucky's fight and resilience on full display with a defensive dog fight between SEC division rivals. The matchup also tied Kentucky's largest deficit overcome in a win against an SEC opponent in program history at 16 points. Also with the win, Kentucky stands at 5-0 this season when it records at least 80 points.
The Wildcats will get a chance to earn a second conference victory on Sunday, Jan. 22, when they host Mississippi State inside Memorial Coliseum. Tipoff against the Bulldogs is scheduled for 1 p.m. EST and will air live on the SEC Network.