Kentucky seeks to snap losing streak in Gainesville
Kentucky womens basketball looks to snap its five-game losing streak in Gainesville on Sunday.
The matchup pits Kentucky against a Florida team that is in a similar position, having lost four of its last five games. 
Fresh off a 29-point loss at the hands of No. 1 South Carolina, Kentucky will be forced to re-find itself defensively if it hopes to stop the downward spiral the team is on. 
Despite the lopsided loss, the Wildcats didn't struggle offensively like usual against the undefeated Gamecocks, shooting above 40% both from the field as well as from 3-point range.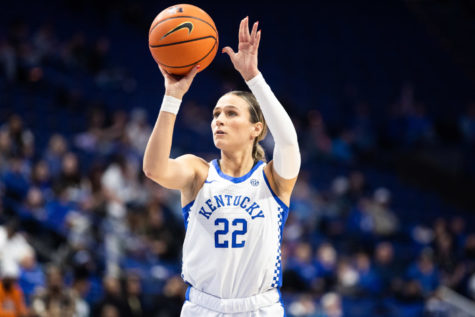 Junior Maddie Scherr was notably impressive against the Gamecocks with her second straight 20-point game, making 25 and shooting 70% from beyond the arc in her last two outings. 
It was ultimately on defense where the Cats found themselves outmatched as USC shot a whopping 64% from the field as a team.
Florida, on the other hand, began the season losing only one of its opening 12 games, but have since fallen on a similar downward spiral with more than half of its total losses coming in conference play, where it stands 1-3. 
Kentucky themselves remain winless in SEC games, standing at 0-5, and are currently enduring a brutal 1-8 stretch that saw the team's record plummet from 7-1 down to 8-9. 
Turnovers have also been an issue for the Cats, with the team tallying 20 or more giveaways in five of its last seven games, which will need to be kept in check if UK looks to steal a game on the road. 
The Cats will need to key in on senior Florida guard Keke Deans, who enters the contest as a 40% 3-point shooter with almost six attempts per game.
The Gators' leading scorer is senior guard Leilani Correa, who enters the matchup averaging 16 points and four rebounds per game, shooting 47% from the field. 
Record wise, Kentucky enters the game as underdogs, but it still may be able to edge out a hard-fought victory facing a team that has been having similar struggles.
Tipoff is currently set for Thursday, Jan. 15, at 3 p.m. EST and can be watched live on the SEC Network.