COLUMN: Kentucky's problems are bigger than basketball
Kentucky mens basketball is a complete mess right now. Let's stop pretending or making excuses for this group.
We've hit the halfway point of the season and this group has more quadrant four losses than quadrant one wins.
It's beyond the point of time to "be patient" like head coach John Calipari keeps insisting.
Losses to Alabama, Missouri, Gonzaga and UCLA were certainly frustrating and confirmed that Kentucky was not going to be a top tier team this season but losing to a team that was projected to place dead last in the SEC is inexcusable.
South Carolina entered the game ranked 264th in NET, sporting losses to Colorado State and Furman, and embarrassed the Wildcats.
Excluding a late comeback attempt in the final minute of the game, South Carolina got whatever it wanted and put Kentucky into a spot where many are left to wonder if this team is even capable of making an NCAA tournament.
Amongst all of the chaos, there are about a million things that people are saying is the problem with this group whether it's local or national media personalities or your buddy who swears he could coach better than Calipari, everyone seems to have a different take on what the problem is.
Some people say shooting is the problem. Some people say the defense hasn't been good enough. Some people say there's not enough depth on the roster.
So, what's the issue?
Well, from what we've seen out of this group, their number one problem isn't actually an on the court problem.
As a fellow student athlete as a member of the Kentucky swimming and diving team, my outlook on this team and comparisons to former teams I have been a part of has led me to see that this team doesn't look like it's having fun, doesn't look unified and doesn't look bought into their coach this season.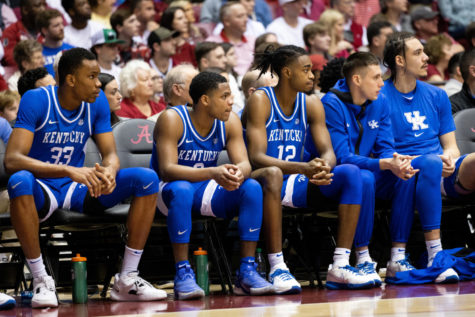 Look at the way this team conducts itself on the bench this season. Everyone sits down lazily on the bench with occasional claps after a highlight play, but that's the most of it.
Compare that to last year's squad, who was overall a good basketball team despite failures in the postseason. Players like TyTy Washington Jr. left no doubt about whether or not they were having fun.
You can even compare the current morale of the group to their days in the Bahamas, when the team was running all over the court, had tons of energy and just felt like a totally different team.
When a problem like this arises and teammates don't seem to enjoy being out there, it can easily snowball into bigger on-the-court problems.
It can also spread across an entire team.
This is why we've watched this group seemingly get worse and worse all season, and why things like shot creation and free throw shooting are becoming weaknesses seemingly out of nowhere.
Star big man Oscar Tshiebwe alluded to this problem after the loss by emphasizing how much Kentucky has struggled to show any fight.
"We got to go out and fight," Tshiebwe said. "Some of us come in, and we're not willing to fight."
While what he said may be true, saying something like this publicly won't do anything to help the morale of this team and will instead only make the team feel more divided, especially considering Tshiebwe himself hasn't exactly performed up to the consensus national player of the year standard this season.
Another thing that stands out to me personally is a situation that happened between Tshiebwe and Calipari following Kentucky's win over in-state rival Louisville.
"I tell coach, 'You want to be so hard on them, sometimes you really mess up their mind and make it worse.' Now he's motivating more… players start stepping up because they hear more positive stuff," Tshiebwe said.
Then, in Calipari's post-game interview against LSU, he staunchly disagreed when asked about Tshiebwe's comments, saying, "No, that's not true. I don't know who told you that. No."
While that may have come off as a small thing to most people watching those interviews, it seems to me that this team doesn't seem to be on the same page.
Look at the way this team reacts to Calipari when he's yelling all game. All season he has been extremely animated when actively coaching games, but when you watch this team and how they react, the yelling and screaming doesn't seem to fire them up. Instead, it seems to discourage them and hurt their energy.
This was especially the case when veteran guard Sahvir Wheeler was seen talking back to his coaches in the loss to the Gamecocks.
From all we've seen, it's not hard to believe that there has been a fracture between the players and the coaches.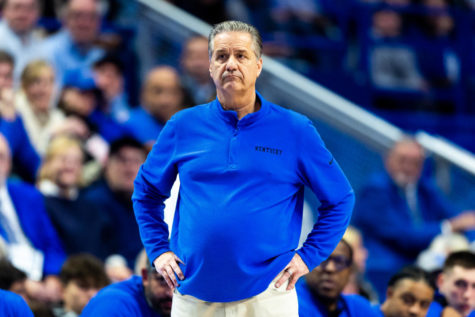 On top of that, it certainly can't help the player-coach relationship that rumors have started going around about Calipari being in talks with Texas.
So, what's the solution to something like this? Well, there's a number of things that I think need to be addressed before this team can try to turn around an already fractured season.
First things first, the players need to come together again. You can't have teammates throwing each other under the bus in post-game interviews and you certainly can't have teammates visibly giving up when the games get tough.
Someone has to take ownership of this squad and get everybody to like each other again.
Second, Calipari needs to find some way to get his players going. This game against South Carolina has been yet another example of a group of guys going out and simply looking totally prepared, leading the opposition to a huge early lead.
If Calipari can't figure something out with this group, then perhaps it is truly time to start putting his job into question, with two missed tournaments in three years and a loss in the first round to Saint Peter's being anything but the 'gold standard' of college basketball.
Finally, this team needs to start having fun again. Whether it comes from coaches changing practices to make them more enjoyable or just the players themselves getting guys more excited for games, somebody has got to stop this team from just going through the motions.
As Kentucky looks to face off against No. 5 Tennessee on Saturday, it's increasingly apparent that many fans within Big Blue Nation are hardly oozing with confidence ahead of the matchup.
Looking at this team and its attitude, it's not hard to see why.