"Cherrish" Every Moment with Chilean Cherries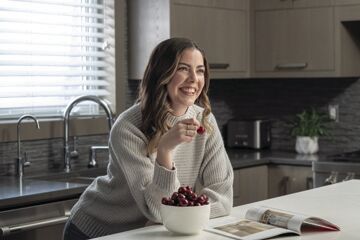 (NewsUSA)

– As January stretches on and the midwinter blahs kick in, consider a healthy way to perk up your day — Chilean cherries.
Although cherries are available domestically in the United States in the summer months, in the winter they bring a much-needed burst of color and flavor. Winter cherries come from the Southern Hemisphere, primarily from Chile in South America. Chile's diverse climate lends itself to growing many types of fruit, including cherries.
Cherries not only taste great, they also pack a powerful nutritional punch. Chilean cherries are rich in antioxidants, as well as vitamin C, which is important to maintaining a healthy immune system.
Chilean cherries also contain vitamins A and K, along with potassium, magnesium and even some of your recommended daily amount of calcium. Cherries are a tasty source of fiber, too.
A one-cup serving of cherries provides 25% of the recommended daily amount of vitamin C, according to the Chilean Cherry Committee. In addition, cherry consumption also may help reduce the risk of cancer and heart disease. But wait, there's more. Cherries contain a healthy dose of the sleep-promoting hormone melatonin.
"When it's winter in the Northern Hemisphere, it's summer in Chile, so that means you can enjoy delicious, sweet cherries through the winter," says Karen Brux, managing director for the Chilean Fresh Fruit Association. "For a taste of summer, look to Chile," she says.
Brux also shared some ideas for how to "Cherrish" Every Moment with Chilean Cherries, and share the taste of Chilean cherries with others.
– Sweeten it up. You can "Cherrish" Every Moment by stirring a cup of halved and pitted Chilean cherries into your banana smoothie. Add some cocoa powder for a true chocolate-covered cherry experience. A winter cherry tart or Chilean Cherry Chocolate Chip Muffins can hit the sweet spot, too.
– Savor the flavor. "Cherrish" the taste of Chilean cherries in a variety of savory recipes. Chilean cherries add just the right pop of flavor and texture to a mixed green salad or a wild rice side dish.
Look for cherries from Chile at your local retailer from December into February, and visit fruitsfromchile.com for more information and recipes.