Democratic incumbent Gov. Andy Beshear won the 2023 Kentucky gubernatorial election on Tuesday, Nov. 7.
Beshear defeated Republican candidate Daniel Cameron 53% to 47% in unofficial results after all 120 participating counties votes were reported, being only the third governor in state history to serve two consecutive terms.
Beshear, Lieutenant Governor Jacqueline Coleman and supporters gathered at Old Forester's Paristown Hall in Louisville to await the election results. 
Upon the announcement of the results, Coleman took the stage to give a victory speech. 
"There is so much more to do, and because of you, we are going to make that happen," she said. "I've got to thank the people of Kentucky for giving us another chance."
Beshear took the stage shortly after Coleman, welcomed with the chanting of his name before giving a victory speech. 
"Tonight, Kentucky made a choice. Not to move to the right or to the left, but a choice to move forward," Beshear said. "Folks, this wasn't my win. It was our victory."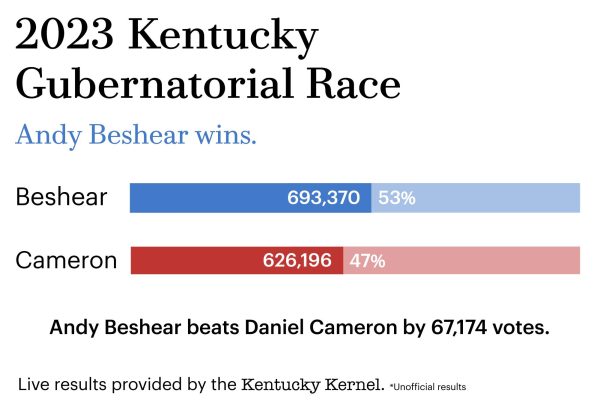 Beshear's election night event opened to the public at 6 p.m. Hundreds of people came in throughout the night, including supporters of Beshear, canvassers for his campaign and other staff working for the campaign.
Tyler Lee, a student at the University of Louisville majoring in business administration, said he has supported Beshear since 2019.
Lee said Beshear's presence and message resonated with him when he saw him in Eastern Kentucky at a campaign event. 
"Seeing a candidate running for an office like governor visit an area like Eastern Kentucky really just shows you who that person is," Lee said.
Ellie Mullins, a sophomore at the UofL majoring in political science, was at the event as a KET intern learning about broadcasting.
"I've been supporting him pretty much the whole time," Mullins said. "I'm in a unique situation because both of my parents' jobs are appointed by Governor Beshear."
Nicholas Hazelett, a senior at Paintsville High School in Johnson County, said he canvassed for Beshear's re-election campaign.
Hazelett said he's supported Beshear since 2019 when he ran against former Gov. Matt Bevin. 
"It was really an eye-opening experience as a first-time voter and canvasser because I'm from Johnson County, which is a historically Republican county," Hazelett said.
Hazelett worked on Beshear's campaign from June to November.
"Going into the hills and hollows of Johnson County, even meeting the people I know, and getting a hold of them, (learning) that they were registered Republicans and independents that were going to go out and vote for Andy was an eye-opening experience," Hazelett said.
Hazelett said the event made him feel acknowledged and appreciated as someone working for Beshear's campaign.
"I think having [the event] allows journalists and canvassers and people that have put in the work not only to report what's going on, but to feel like they're actually appreciated rather than just being stuck in their office somewhere," Hazelett said.
Some attendees said they felt that an event like this celebrates more than just the governor's victory. 
"I think events like this are important because obviously everybody knows it's an important night, but what people don't realize is that election night is for all of his supporters to come and basically give back for how much support he's given," Mullins said.