With the gubernatorial election coming up in Kentucky, groups on campus are leading efforts to ensure students are educated about how to get involved in hopes of relieving the stress of yet another responsibility on their plate.
Side-by-side in the Gatton Student Center, UK's chapter of the National Association of the Advancement of Colored People (NAACP) and UK College Democrats have worked individually to engage with students when passing between classes, encouraging them to take action.
"I know a lot of times it's hard to get people around our age to care about what's going on with politics and what affects our community," NAACP Co-President Mya Howell said. "We try to get people involved in a way that shows them that politics and elections can directly affect them. If you are not reading up about what's going on, at least you can hear about it from your peers "
Throughout the electoral season, NAACP members can be seen flagging down students and giving guidance to them about the voter registration process as well as NAACP registration for those interested. 
"We try to recognize ourselves as a political advocacy (organization) for the minority community, so politics is very important when it comes to the NAACP," Howell said.
Regardless of individual members' political beliefs, Howell emphasized that the organization as a whole is not endorsing a candidate for the upcoming election. The NAACP's priority is educating students through general body meetings and tabling events. 
"We haven't focused on a specific candidate because we don't want to be too biased, we just want people to make their own opinions and decisions," Howell said. "We just bring light to voting and how important it is."
Similar actions could be seen during the College Democrats' tabling event, where they welcomed all prospective voters despite their left-leaning affiliation. For students who didn't know whether they were Republican or Democrat, the organization offered them quizzes, which Rice described as "fun," to assess their values and assign them a party to register with.

College can already be stressful enough, so when adding a state election and the possible expectation to vote, the process can seem more overwhelming and troublesome. The timing within the school year can also not be the most ideal with midterm season approaching. 
In order to help alleviate some of that burden, the College Democrats assisted out-of-state students in their decision of registering to vote in Kentucky or order mail-in ballots from their home cities.
"It's midterms. So it's not like a big thing that everybody knows about," College Democrats President Hallie Rice said. "So we want to focus on just making sure people are aware that there's an election and then knowing what's on the ballot, knowing who's on the ballot."
In the interest of promoting civic engagement, the College Democrats hosted a fall carnival on Friday, Oct. 13. Rice said this was to try and attract students who are not necessarily interested in politics or College Democrats as an organization.
"It's not set up in a way that's focused on politics specifically, because we want everyone to show up, regardless of political affiliation," Rice said. "And it's a way for students to learn about political organizations, resources, candidates, all that without really having to come to something that's specifically College Democrats focused."
The work doesn't stop there for the organization. For the rest of October and all of November, the College Democrats meet every Thursday to focus on the current state of the election and how students can get involved. Many members of College Democrats are canvassing for Andy Beshear.
Rice, a senior political science major, said she believes even those who aren't interested in canvassing or being active members of political groups on campus should at least vote.
"We're the future. All the legislation that is going through right now, we're the ones that it's really affecting," Rice said. "And so I think it's really important just to encourage college students to be civically engaged, because if they're not civically engaged, then basically the political future is gonna fall apart."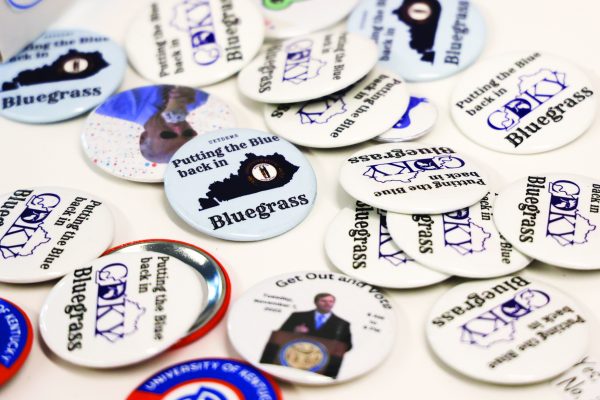 In similar efforts, UK's Student Government Association (SGA) tabled for voter registration outside White Hall Classroom Building on Oct. 10.
Equipped with stickers, donuts and informative brochures, SGA members hoped to pique students' interest while also representing nonpartisan efforts and gain attraction from students to show them how to vote. 
"A lot of students don't know that if you go to school at a college campus in Kentucky, you can register to vote as a student on that campus," said Bailey Pierce, director of government relations and civic engagement for SGA. "We're trying to spread the word about that. We're just trying to make sure that Wildcats know how to get involved and stay involved in local elections."
Pierce said SGA plans to table again on Oct. 24 to help students order absentee ballots. SGA is also organizing a shuttle service to take students to the early voting locations at the Lexington Senior Center on Nov. 4. This way, those who are unavailable or lack transportation on Election Day can still vote.
"No matter how young you are or how uninformed that you feel that you are, it's always important to have your voice be heard," Pierce said. "We want students to be empowered to know that these issues are facing them and have the confidence to go boldly into those polling locations and cast their vote."
Differences aside, these organizations share a common goal: increasing the number of students at the polls. Their goal may not be unrealistic, despite the fact that this is a smaller-scale election than what typically yields the highest turnout.
According to the Center for Information and Research on Civic Learning and Engagement (CIRCLE), 21.8% of Kentuckians ages 18-29 voted in the 2022 midterm election. While this number may not sound high, CIRCLE cited it as an upward trend in the youth vote over the past decade. 
Whether or not this trend will be reflected in the 2023 gubernatorial election is yet to be seen, but the driving factor for the increase in young voter turnout was cited by CIRCLE to be abortion, a hot topic in Kentucky's current political scene as well, according to the Associated Press. 
The fate of abortion in Kentucky has been heavily debated since the overturn of Roe v. Wade, with each gubernatorial candidate expressing opposing views on the matter. 
Gov. Andy Beshear has said that the current abortion law banning the procedure except when carried out to save a pregnant woman's life or to prevent a disabling injury needs to change, the Associated Press reported.
Attorney General Daniel Cameron, however, was a supporter of Amendment 2, the controversial proposition to declare abortion not protected by Kentucky's constitution, defeated in last year's midterm election, according to Ballotpedia. 
If students' political motivations match that of the last midterm election, they may be more engaged in the 2023 gubernatorial one as well. 
Despite this, Pro-Life Wildcats is not one of the groups on campus focusing on promoting voting in students. 
Rebekah Keith, co-president of Pro-Life Wildcats, said they haven't been tabling for voting, working with a campaign, endorsing candidates or speaking about the election at regular meetings.
"We are very much a single-issue club and most of what we do is focused on trying to support pregnant women and parents on campus instead of strict political advocacy," Keith said. "We do that too. It's just not our main focus."
The LGBTQ+ Center also stated that they are not taking action regarding the upcoming election either. 
Young Americans for Freedom stated that they are "focused on expanding conservative views, rather than getting people elected."
College Republicans and Turning Point USA could not be reached to comment regarding their preparation for the upcoming election.