The University of Kentucky Board of Trustees met to approve the appointments of new high-level staff positions on Friday, Sept. 16.
The meeting began with the swearing-in of two new trustees, Samuel "Alex" Boone and Lizzy Hornung. 
Boone was sworn in as an appointive member and Hornung was sworn in as the student member.
University President Eli Capilouto opened his report with the official numbers concerning fall 2023 enrollment.
He began by reflecting on the opportunities students have through UK.
"But they (students) learned that wanting something more doesn't have to be a dream dashed or an aspiration too ambitious, too hard to reach or too far for their grasp," Capilouto said. "It is an expectation that can be met at the University of Kentucky." 
It was also reported by Capilouto that there was a considerable increase in degrees given to graduating students. Degree production increased from about 5,800 in 2011 to nearly 8,200 in 2022-2023.
Capilouto continued to break down the statistics referencing an increase in the number of certificates gifted by the university. 
"Certificate production has soared. It's increased from less than 100 to almost 1,300," Capilouto said.
Graduation and retention rates also increased. Four-year graduation rates have increased by 27%, five-year rates have increased by 17% and six-year rates have increased by more than 12%, according to Capilouto.
In addition, a preliminary fall retention rate of 87% was reported.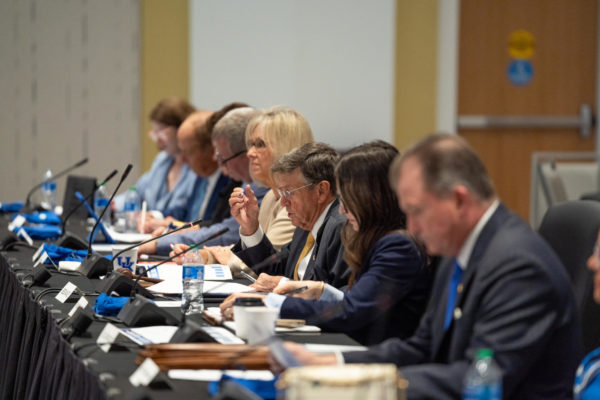 "This number places us among the top 100 public institutions, top 20% in the country, based on the most recent data," Capilouto said.
In fall 2010, the university sat at just over 28,000 students and increased to more than 34,000 in fall 2023, according to Capilouto. 
Capilouto also presented four Presidential Reports (PR). These PR's concerned the appointment of multiple positions within UK.
The board approved the appointment of Robert S. DiPaola and Eric Monday Co-Executive Vice President for Health Affairs.
The board also approved the appointment of Dr. Charles "Chipper" Griffith III as Dean of the UK College of Medicine and Padraic Kenney as Dean of the Graduate School.
The meeting concluded with a recap of the University Health Care Committee report from trustee Dr. E. Britt Brockman.
The Health Care Infrastructure Team was built to oversee infrastructure projects. The team approved $2.4 billion in building projects, Brockman said.
The Executive Clinch Clinical Effectiveness Leadership Team was created to identify critical needs as well as find quick resolutions, he added.
Brockman also announced that UK HealthCare has been named the number one hospital in the state of Kentucky by U.S. News and World Report for the eighth year in a row.
"We have seen firsthand how the UK HealthCare continues to fulfill the mission of taking care of Kentuckians and advanced health care in Kentucky and beyond," Brockman said.