The Lexington Fraternal Order of Firefighters and the Lexington Fire Department hosted their 22nd annual 9/11 memorial stair climb at Kroger Field on Sept. 11, 2023.
Participants climbed 110 flights of stairs along the visitor's side and the endzone, representing the 110 stories of the World Trade Center that first responders climbed the day of the attacks.
"We made that pledge 22 years ago that we would never forget those people. That's what this is about," said fire Lt. Chris MacFarlane before the memorial climb.
Firefighters, police officers and UK ROTC walked the steps while wearing their full gear and carrying heavy backpacks to replicate the experience that first responders endured on 9/11.
"What we're doing is nothing compared to the sacrifices that they made, so it's the least I could do," said Mason Steineker, a junior aerospace engineering major and a member of Air Force ROTC.
Community members ranging from children to the elderly were seen with red lanyards around their necks, each of which showed the name and picture of a different first responder who died on that day.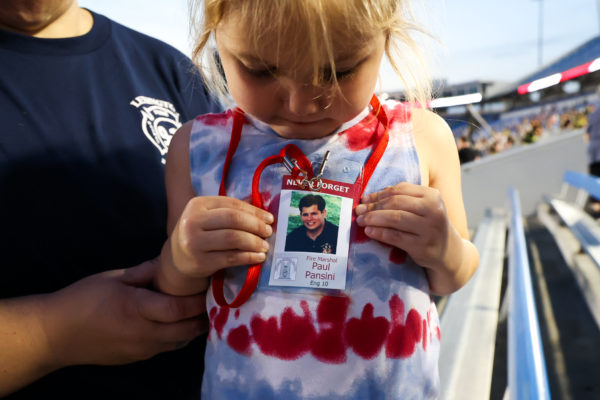 When participants began their second lap, they rang a bell and said the name of the person they were climbing for.
"I'm walking for all the people that lost their lives on that day, and their families. It's a way for us to remember and to keep their memories alive," Casey Hogue, a firefighter, said.
Hundreds of participants walked up and down the steps of Kroger Field, some carrying American flags and many adorned in 9/11 remembrance T-shirts provided by the event.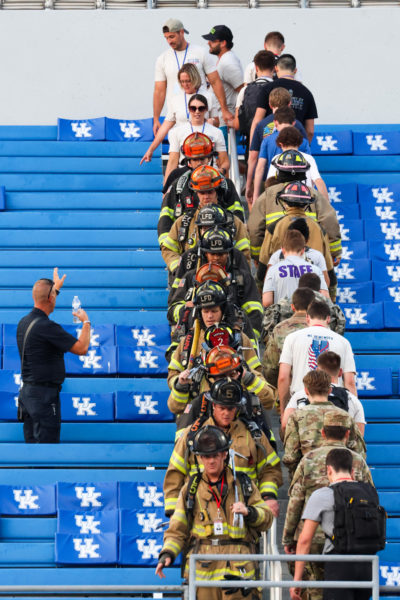 "There's a lot of participation from the community and it's really good to see everybody here and never forget," Hogue said.
Army ROTC Lt. Bonnie Walton said the event has continued to grow bigger and bigger in the three years she's participated in it. This is the fifth year of the event being held at Kroger Field.
"The first year I did it, it was just us, the cadets, and the fire department, and now it's a whole entire community event," Walton said.
According to Steineker, 92% of the Air Force Detachment was in attendance with students from Eastern Kentucky University joining as well.
"It's honestly crazy to see, I didn't even know that many people were informed about this so it shows a lot of support for the community," Steineker said.
ROTC members stuck together during the walk and were seen grabbing water and bananas for each other, which were provided by the Lexington Fraternal Order of Firefighters.
"Many of us come from military families, so this is a taste of what our parents fought for, what our relatives fought for, what our community members fought for," Walton said.