The University of Kentucky held its 22nd annual 9/11 commemoration ceremony at the UK Main Building's lawn on Sept. 11, 2023.
The program was provided by the UK Army ROTC and Air Force ROTC programs and included opening remarks from Lt. Col. Alan Overmyer, who is a professor of military sciences at the university.
Prior to the ceremony, there was a flag placed for every death that resulted from the attacks by members of the ROTC program.
The names of the nearly 3,000 victims of the attack were read aloud at 8:46 a.m., which is when the first tower was hit.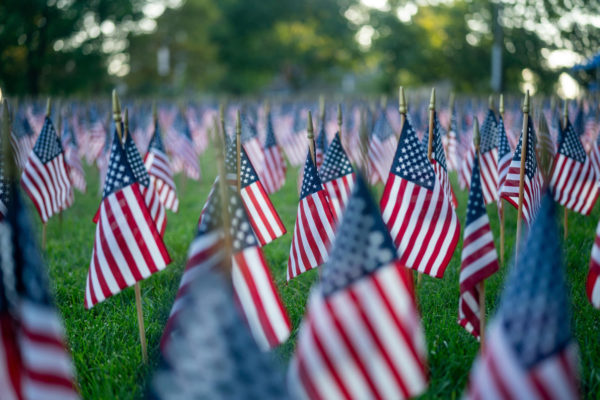 "We lost nearly 3,000 innocent lives, and scars left behind from that still linger with us today," Overmyer said.
A cadet with a rifle also circled the flagpole on the main lawn. 
"The cadet marching around with the rifle around the flagpole is a guard to serve as a reminder that we will always be guarded with great pride and strength," Cadet Egan Copeland, the Commanding Officer (CO) of UK C-1 Pershing Rifles, said during the opening remarks.
The flag also rested at the center of the pole to commemorate those who perished in the attacks.
"The flag above us rests at half-mast to serve as a reminder around the campus that we have lost innocent lives," Copeland said.
Students in the ROTC department at the university conducted the ceremony.
"Many of the students and cadets that got up at 4 a.m. this morning weren't even born yet (at the time of the attacks), but it just becomes one of those things that's in the nature of service," Overmyer said.
Being the 22nd consecutive year the ceremony is being held at the university, Overmyer said that what goes into it is advantageous to those who are involved.
"It takes a lot of planning and it takes a lot of early mornings but it's absolutely worthwhile because we have the option to go to classes or go home today whereas those 3,000 who perished didn't have that opportunity," Overmyer said.
The commemoration will continue at 7 p.m. this evening featuring a 110,000 flight stair-climb at Kroger Field to emulate the steps first responders had to take during the attack. 
"We're gonna have rucksacks on our backs to replicate every one of those steps that those brave responders had to do that fateful morning in lower Manhattan," Overmyer said.