Big Blue Move-In at the University of Kentucky began Sunday, August 13, welcoming "excited" students.
Nearly 7,000 new students have been added to the Big Blue Nation. This means the University of Kentucky is seeing another record-breaking class size, with last year's freshman class being 6,120 new students, according to UKNOW. 
Many students moved into their new living quarters from Sunday to Wednesday, giving them ample time to acclimate to campus before the start of K Week.  
As the rain soaked residents and their belongings early Monday morning, swarms of students and volunteers filled the streets and sidewalks of UK's campus, many wearing ponchos and holding umbrellas. 
The university had traffic barriers and cones lining central areas of move-in locations on campus. Signs placed along the roadways of popular intersections read "Move in traffic straight." 
Other signs were designated with colors. On north campus, the blue unloading zone was designated for Jewell and Blazer Halls, yellow for Boyd Hall, green for Holmes Hall and brown for Roselle Hall. 
Students and their family members were seen carrying essential items into their new dorms, pushing shopping carts through the streets and greeting new and returning friends.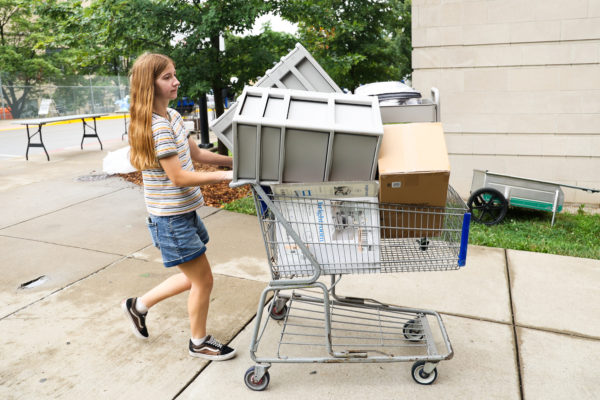 UK President Eli Capilouto was also in attendance, observing and interviewing students and their family members about their day and why they chose to attend the university. 
"I'm always excited, first of all, all of these people have chosen the University of Kentucky to be a part of a family," Capilouto said. "Year after year, we have 700-plus volunteers who show up, they're part of our family, to welcome all of these people into the family."
Capilouto also shared one of his favorite testimonies as to why people chose UK during his interviews with students and families Monday morning.   
"The one family I just spoke to who came all the way from California, they're moving in their daughter, and they have another daughter considering Kentucky. They said they're happy to arrive in the Bluegrass and get away from California [grass] that's sort of brown," Capilouto said.
Capilouto expressed gratitude that UK draws in more than just in-state students.
"It's great to know that the University of Kentucky attracts new people who want to call Kentucky home," Capilouto added.
Some students shared how they felt about being away from home and what they are most excited about in this upcoming school year. 
Alex Sabol, an incoming freshman from Atlanta, expressed his excitement about the environment and people at UK.
"I chose UK because it was the best fit for me, I love the culture here. And everyone I've met so far has been awesome, I'm very excited," Sabol said. 
Anderson Conli, a freshman studying business economics and management, shared that he was a big sports fan and is excited to watch basketball and football, especially when the Wildcats take home a win.
"I'm a big sports guy, so probably seeing us win games is going to be fun," Conlin said.
Conlin added that he's from Chicago, highlighting the differences between the two metropolitan areas. 
"There's a time change, so me and my roommate found that out this morning when we said we were going to go to breakfast at 9:30 and it's 10:30, but it's 9:30 at home," Conlin said. 
Some students also discussed how they feel about the change from high school to college and what it's like to start a new academic endeavor at the collegiate level.
"It's definitely another level compared to high school with relationships and frats and all that you can do here compared to, you know, the limits of high school," Sabol said. 
As Big Blue Move-In came to a close, all streets with traffic equipment were put back to normal as the students settled into their new dorms and started the 2023-2024 school year at UK.