Answer the Bell
Blood, sweat and tears is an inaccurate cliché for most people. For Justin Sparks, it's a weekly itinerary.
The 23-year-old mixed martial artist is an amateur fighter from Lancaster, Kentucky. Sparks has attended Reaction MMA for over two years now and has one fight under his belt.
In the uncertain world of amateur fighting, bouts are never guaranteed. Thus, when Sparks received an offer to fight on Dec. 3, 2022, from the B2 Fighting Series, he jumped on the opportunity. Sparks began his training camp in early October, but there was one massive difference from his previous experience.
"I wasn't able to be a part of his entire camp (last fight) because I was having multiple surgeries," Reaction MMA owner and head coach Rob Nickerson said. "Not having your coach who you've worked with the majority of the time there. That's kind of a big deal. So, I'm looking forward to giving him the full camp with my attention."
With his coach by his side, Sparks dove head-first into his eight-week training camp.
While fighting was on his mind, it wasn't his only obligation. During the week, Sparks is an HVAC technician. He's had this job since he graduated high school.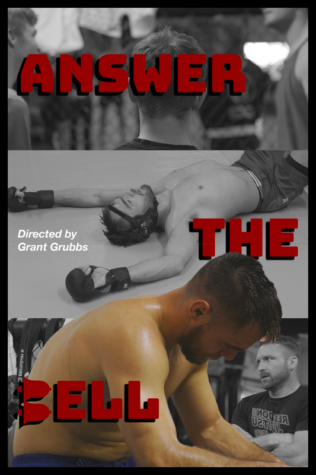 As soon as Sparks gets off work, he drives to the gym for class, often not having time to stop for dinner. When he finally makes it through Nicholasville Road traffic, Sparks trains from 5:30 to 9:30 p.m. at Reaction MMA. Despite his impressive work ethic, Sparks tries to keep his expectations realistic.
"It'd be easy to say I want to be in the UFC. Who doesn't want to be the best at whatever they do? But I don't know if that's like my long-term goal," Sparks said. "As long as I can do it and have time to make for training, I'm going to do it."
Sparks isn't bluffing. The Garrard County High School graduate has not let obstacles halt his MMA career. When he first began training, he was overweight. In a few months, he was one of the most fit athletes in the gym. After Sparks's first fight in December 2021, he was sidelined due to a torn MCL. He was back on the mats as soon as doctors released him, or even a little before.
This time around, Sparks didn't plan on any inconveniences. Every night of the week, he drilled in boxing, Muay Thai and Brazilian Jiu-Jitsu. Despite not knowing who his opponent would be on Dec. 3, Sparks trained like it was his bitter rival. After all, his health depended on it.
"(My opponent) knows my name. He's looked me up on Instagram. He's watched my fight," Sparks said. "When you think about it, you've got a grown man who likes getting hit in the head. He's training to hit you in the head."
The dangerous game isn't for everyone. When Sparks began his endeavor into the MMA world, his friends and family thought he was crazy. Sparks' grandma, who raised him, can't bear the idea of others hitting him. While Sparks' friends can watch his fights, they're surprised to see them.
"I thought it would just be another hobby. Get kind of into it for a little while, but he's dove head-first into it and not quit," Zac Jeffries, one of Sparks's best friends, said.
Despite his shock, Jeffries enjoyed Sparks's first fight.
"It was very nerve-wracking. As soon as those first fists were thrown, it was go-time, baby. It was nice. It was fun. I can't wait until another one," he said.
Unfortunately for Jeffries, he'll be waiting longer than anticipated. Only a few weeks out from the Dec. 3 fight, Sparks's fighting promotion cancelled the event due to financial issues. Worse, Sparks discovered the heartbreaking news on social media.
"I was just on Facebook and I'm friends with the guy that runs it. After their show in November, they still hadn't announced the next day. He posted and said, 'Looks like the next show is going to be the 17th,' after we'd already scheduled other stuff," Sparks recalled.
In a sport saturated with pain, Sparks has learned to roll with the punches. Just because this specific pain isn't physical, doesn't mean Sparks won't handle it just as well as any other obstacle thrown in his way.
"I love being here. I enjoy coming to class through the week. It's not like I have to make myself do this so I can reach this goal of eventually fighting. The fighting is just like the cherry on top," Sparks said. "The shine is not what I'm in it for."