No. 18 Kentucky baseball opens weekend series by routing Mizzou 12-2 in seven innings
No. 18 Kentucky baseball (22-3) kicked off its third SEC series of the season with a seventh inning run rule victory against Mizzou (19-6), beating the Tigers 12-2 with overcast skies at Kentucky Proud Park.
In its last matchup, Kentucky faced Western Kentucky on Tuesday, squeaking by with a narrow 10-8 comeback victory.
Contrary to their previous performance, the Wildcats came out swinging early and kept their opponent against the ropes.
On the mound for Kentucky Darren Williams made his second start of the season while the Tigers elected Austin Troesser as starter.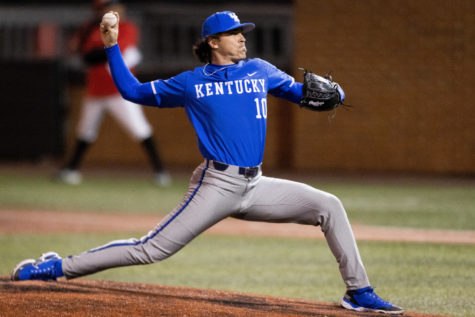 After striking out his first opponent, Williams struggled to keep his command, hitting two Mizzou batters, before allowing a single and walking another batter, giving the Tigers an early 1-0 lead. 
Despite the troubling predicament, the Wildcats managed to escape the inning with the bases loaded.
In response to the rocky start on defense, Kentucky loaded the bases via two walks and a single by Devin Burkes on offense. Afterward, Hunter Gilliam sent home the first two runs for the Wildcats with a single to left field.
Kentucky's momentum continued with two runners on as Ryan Waldschmidt hit a 457-foot bomb to left center field to bring in three more runs for the Wildcats, extending their lead to 5-2.
After only 35 pitches Mizzou relieved Troesser with Kyle Potthoff to finish the inning.
Following an explosive first, innings two through four saw both squads go scoreless.
In the fifth inning a seemingly lifeless Mizzou offense connected with a leadoff double to right field and, soon afterward, Williams hit his fourth batter of the game, placing two Tigers on base.
The Tigers were able to capitalize with a sacrifice fly to center field to bring in the runner from third and dock their deficit to three runs.
Burkes responded by leading off the bottom of the inning with a single, but he was thrown out trying to steal second soon afterward.
Despite that, Pitre answered with a double before being scored by a slam by Gilliam.
Kentucky kept the momentum in its favor with Nolan McCarthy advancing the previously walked Waldschmidt, which prompted Mizzou to replace Potthoff with Jacob Hasty.
Luckily for Missouri, with two runners on Hasty was able to close the inning without allowing anymore runs to close the fifth inning.
Prior to the beginning of the sixth inning Kentucky relieved Williams with Austin Strickland, who was welcomed with ensuing rainfall. The chilling elements didn't faze him though as he promptly shut out the Tigers.
On the other side, Missouri struggled early in the sixth, walking two Wildcats and allowing Jackson Gray to reach first with a wild pitch.
It wasn't long before Hasty allowed the Wildcats to fill the bases and Emilien Pitre seized the opportunity by knocking a single to left field, bringing in Burkes and Felker for runs.
After two mound visits the Kentucky crowd was verbally upset as Mizzou relieved the struggling Hasty with Daniel Wissler, throwing him into a pickle with the bases loaded again for Kentucky.
This time the pitching change wouldn't prevent the Cats from cashing in as Waldschmidt tallied his fourth RBI with a sacrifice fly to bring in Burkes for the score.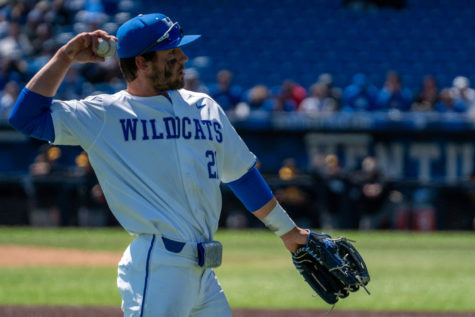 Nevertheless, Wissler was able to close the inning, leaving two Kentucky runners on base.
Strickland remained on the mound and didn't allow any runs to begin the seventh, allowing Kentucky to stay hot despite the elements as Smith led off with a double to center field before the blunders for Mizzou continued as Gray was hit by a pitch and Felker hit a double to cap off the game with a win.
Waldschmidt played strongly in the win, setting the tone with a three-run homer in the first inning in addition to a sacrifice fly, finishing with four RBIs.
"I was looking for a fastball and I wasn't late for that one… I was just ready," he said.
Another impactful player for Kentucky was Gilliam, who went two for three with a two-RBI single and a two-run homer in the fifth inning, which saw Gilliam's season batting average improve to .414, which marked a team high average. 
"We're having a blast, man," Gilliam said. "This whole year for me has been the best time of my life. I try to take advantage of it every day because it's going by so fast."
Following the result head coach Nick Mingione was pleased with his players.
"This has been a resilient group, and I'm proud we keep answering back," Mingione said.
Kentucky returns to action to take on Mizzou again at home on Saturday, April 1, at 2 p.m. EST. The game will be streamed live on the SEC Network+.