Adventures in UK Surplus: A warehouse of surprises
From horse-drawn carriages to every size and shape of filing cabinet and sound boards used for announcing legendary games in the University of Kentucky's own Memorial Coliseum, UK Surplus is home to a treasure trove of unique, unused items belonging to the university.
UK Surplus, which functions under the UK Purchasing Division, is a warehouse which serves as an epicenter for overflow from UK. The warehouse is located off of Versailles Road in the Vaughan Warehouse and Office.
The location holds items that are no longer in use and allows them to be checked out by UK personnel including grad students, professors and staff. This is done through the use of UK ID as well as an online checkout system.
Departments are able to transport items to UK Surplus through request. 
"Departments fill out a form list of property. It's brought over here typically, and we dispose of it appropriately from there," Barry Swanson, chief procurement officer for the university, said.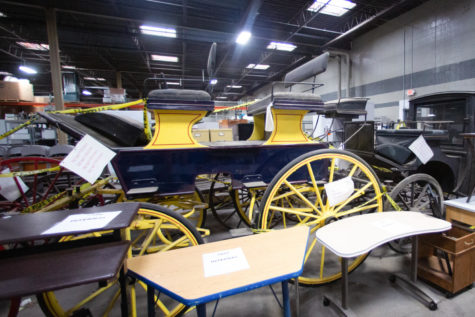 Once transported to UK Surplus, the items are available for check out to UK personnel for at least 10 days. Once the 10 days are over, the items are either left to check out for longer, put up for auction to the public, recycled or disposed of. 
Although the items can also be disposed of if needed, UK Surplus attempts to maximize sustainability through the reusing of items. 
"We try to keep as much as possible," Jeff Carmickle, the purchasing and surplus assistant director, said. "So if it has any value or functionality to it, we're probably going to keep it at least for a while to see if we can get it back in use or sell it."
Some common items available include but are not limited to chairs, medical equipment, computers and furniture. Some of the more obscure items that UK Surplus has seen include an egg incubator, sleighs and even a barn. 
"We take in everything from pencils to medical equipment to technology to just everything," Swanson said.
Carmickle said he aids in managing the inventory of UK Surplus. Thanks to previous experience in finance before a transition to UK Surplus, Carmickle has a special understanding of the movement and flow of inventory in and out of the warehouse. 
According to Carmickle, the warehouse is set up in a way that promotes the movement of items. Carmickle's knowledge about the warehouse and its content also helps when deciding exactly how long to keep an item before putting it up for auction or finding another way to repurpose or dispose of it.
Carmickle said he has come to learn that many different types of medical and research equipment, like microscopes and medical grade glass, are always in need, especially as graduate students start up their research. 
Because of this, Carmickle tends to keep these items in the warehouse and doesn't put them up for auction. Other items, like ripped-up carpet, are put up for sale as soon as the 10 days are over in order to create more space within the warehouse.
UK Surplus is heavily focused on sustainability through its commitment to the reuse of items. 
"(Checking out items) is the best possible outcome for all involved. It promotes our sustainability efforts too, because it keeps it outta the landfill," Swanson said.
Although UK Surplus houses such a large amount of items, there is still an element of surprise to what is brought into the warehouse.
"It's amazing what comes through here. You never know what's gonna come in on any given day." Swanson said.