'It's literally going to kill someone.' Seeking safe spaces at UK in light of Kentucky's SB 150
As Kentucky legislators debate a bill determining the fate of LGBTQ individuals in schools across the commonwealth, groups at the University of Kentucky are working to make campus more inclusive.
Senate Bill 150, "AN ACT relating to rights in public schools," passed on Feb. 16 with a 29-6 vote.
The bill will require educators to disclose a child's sexual orientation to their parents, even if the student does not give them permission. Educators will no longer be required to use a student's preferred pronouns if they do not conform with the sex stated on the child's birth certificate.
"The Kentucky Board of Education or the Kentucky Department of Education shall not require or recommend policies or procedures for the use of pronouns that do not conform to a student's biological sex as indicated on the student's original, unedited birth certificate issued at the time of birth pursuant," according to the introduced SB 150 document.
The day after the Senate approved SB 150, legislators sent the bill to the House of Representatives, which filed House Floor Amendment 1.
This action is a move to "delete provision forbidding local school district from requiring the use of pronouns that do not conform and replace with a provision requiring school personnel use names and pronouns requested by a parent or guardian," according to the House Floor Amendment 1 summary written by the Kentucky General Assembly.
SB 150 working its way through Kentucky legislation has left many outraged. The work of Kentucky legislators has the LGBTQ community and its allies at UK feeling stressed and anxious for what's to come.
Evelyn Huth, a freshman at UK, said the bill is "awful for students who could be figuring out their identity or who identify differently than most people."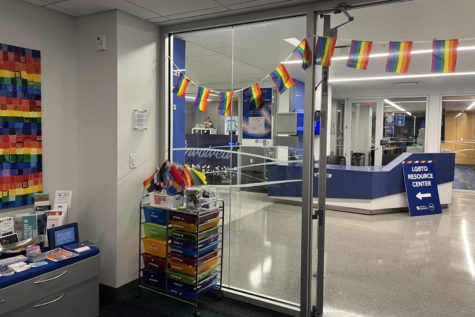 For these students at UK, the LGBTQ Resource Center serves as an open space where visitors can visit to eat, talk and simply hang out, whether they identify as queer or not.
J'Lissabeth Faughn, the center's director, said students see the resource center as a place "that they can get away and that they're safe."
Since the LGBTQ Resource Center is part of the Center for Student Success, Faughn describes her job as being charged with the responsibility to help students succeed in the classroom as well as life in general.
There are 11 student organizations that stem from the LGBTQ Resource Center such as OutGrads, OUTlaw, Med Pride, QPA: Queer People of Color Association, GSA: Gender Sexuality Alliance, StemGQueers and other college-specific organizations.
Faughn encourages students to look for the Safe Zone stickers that residential advisors and UK faculty might have on their doors or in their offices. These stickers signify allyship and indicate a place where students can go if they are struggling with their sexuality or gender identity.
"It basically just indicates that we're a safe space to talk with," Emily Greenwell, a residential advisor for UK undergraduate housing, said.
Safe Zone is a national program that offers training sessions that teach those attending about the LGBTQ community, micro and macro aggressions and how to be an ally to those in the community.
According to Faughn, in Kentucky, 23% of people under the age of 25 never return home after coming out. This statistic shows the level of support the LGBTQ community is in need of.
"We have students who are legally emancipated or who have not spoken to their parents in years," Faughn said.
Faughn said that the most vulnerable people right now are those of the transgender community. The bills moving through Kentucky's legislature will directly affect members of the transgender community both mentally and physically.
The LGBTQ community has one of the highest rates of suicide ideation, but the transgender community specifically has the highest rate for suidide ideation, according to Faughn.
"It's going to kill people, it's literally going to kill someone. People's blood will be on the hands of these legislatures," she said.
LGBTQ resource centers like UK's are vital to opening the conversation, showing support and "(stopping) people from harming themselves," Faughn said. 
In addition to providing support for the LGBTQ community in light of SB 150, Faughn expressed a clear need for awareness regarding the legislature on UK's campus.
One student, a freshman who chose to remain anonymous, was unaware of SB 150 entirely.
"This university has a responsibility to educate," Faughn said.
The LGBTQ Resource Center is working on counter programming as SB 150 is making its way through Kentucky's House of Representatives, according to Faughn. These counter programming meetings will teach students about what SB 150 means for the people of Kentucky and the LGBTQ community.
The Resource Center is working with UK's counseling center to provide support for students who are struggling during this time.
Meetings held by organizations such as these will give students a place to process what is happening in Kentucky's government.
Those experiencing a mental crisis can call or text the Suicide and Crisis Lifeline at 988.
Visit the Suicide and Crisis Lifeline website here.