Phi Delta Epsilon raises over $3,100 at annual Anatomy Fashion Show
Phi Delta Epsilon hosted their annual Anatomy Fashion Show at The Signature Club of Lansdowne Sunday, March 5, from 3-5 p.m. All proceeds went to the Children's Miracle Network Hospitals.
Models wore designs all featuring hand painted images of the body such as the stomach and intestines, circulatory system and what the body looks like through a pet scan.
PhiDE is an International Medical Fraternity for aspiring physicians. Their motto is "Facta Non Verba: Deeds Not Words." 
Olivia Thornsbury, a UK sophomore on the pre professional track for biology and minoring in Appalachian studies, painted the endocrine system on Parker Presley, one of over 30 models. 
"I am honestly stunned with how many more models we had this year. I painted last year as well and this new class that we've had in PhiDE, I don't know, I think we've just been rejuvenated," Thornsbury said.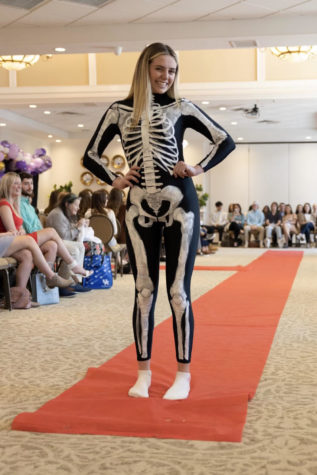 Thornsbury and Connor Stuart, a UK sophomore majoring in neuroscience and biology with a minor in Spanish, both painted designs for the show again this year.
"I painted Warren Van Nort and it was supposed to be a heartburn in space – so his heart is a supernova, I think it turned out well," Stuart said.
Not only is the fashion show a fundraiser, but it also offers members an opportunity to take a break from their busy course loads and spend time with each other.
Maddie Anderson, a UK freshman majoring in neuroscience and minoring in biology, is a part of NeuroCATS and modeled in this year's show.
"I think it went really well, it was really fun, it was a really fun experience, like getting together and getting to do the paint workshop and then getting to come and do the show obviously but also getting to do it for a charity event so it was just great all over."
Ty Wheeler, a guest of one of the fraternity members, enjoyed his first time at the show. 
"You know when I think of PhiDE, I think of like doctors and people going into the medical field and there's a lot of artists actually who are actually very talented and that's just something I didn't really think about going into it," Wheeler said.
The event was a success raising money through mocktails, t-shirts, tickets to the show and the voting incorporated this year.
Phi Delta Epsilon's President, Ben Robinson, said that he is looking forward to next year's show and hopefully growing the event and the funds that they raise more and more each year.
"Today went fantastic. I'm really proud of the hard work everyone put in, especially our Vice President of finance, Olivia Dodge," Robinson said. "We raised a total approximation of $3,100 and I'm incredibly proud of everyone."