Muy caliente takes on Lexington Mexican restaurants
Mexican restaurants definitely have a market with University of Kentucky students. 
The different choices of food, the range of prices and the closeness to campus make finding a favorite pretty easy. 
The Kernel's opinion staff has a few hot takes regarding their favorite and least favorite Mexican restaurants that students at UK rave about. 
Agave & Rye
Although Agave & Rye has locations across several states, its two locations in Lexington have made it a staple for many college students and residents. But is it worth the hype?
Agave & Rye has its perks. It has an expansive menu including an array of appetizers, sides and non-taco items. 
However, their main attraction is their selection of à la carte "Epic Tacos," which are their signature tacos with fun names and unconventional toppings.
For foodies and adventurous eaters, these options may be appealing. But for others, some of these specialty tacos may seem a little off-putting. 
For example, the "Happy Meal" taco, which contains ground beef, fries, pickles, ketchup and cheese, may not be for everyone. 
However, the "Plain Jane" appeals to all taco lovers with its classic ground beef, lettuce, cheddar, tomato and sour cream.
Regardless of whether these tacos sound enticing, there are some drawbacks to this expansive menu. For one, it's pricey.
The Epic Tacos range anywhere from $6.75 to $13.50 per taco, which might be out of the price range of many college students.
I have tried many of their tacos and have found them to be less than satisfactory, especially for the price. 
Even though some of them have good flavor profiles, the tacos tend to fall apart, and it's hard to justify $15-20 for two tacos for me. 
Though it's an interesting sit-down place to try with friends or family, I think there are lots of better and more affordable places to get tacos in Lexington.
The Local Taco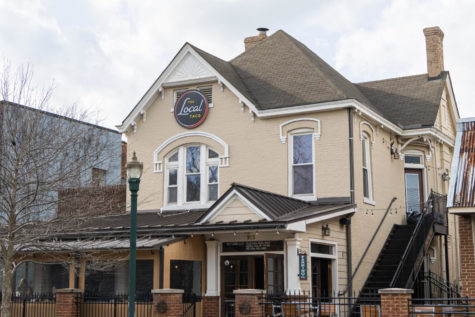 The Local Taco has the market on street tacos for college students around Lexington, but like Agave & Rye, it may not be for everyone. 
The Local Taco has two locations in Lexington: one directly off campus and one in the Hamburg area. 
The restaurant closest to campus is the main location for students at UK. 
Their menu has plenty of "Tex-Mex" basics, including tacos, enchiladas and quesadillas. But, within these there isn't much room for specialization or unique options. 
The taco choices for meat include steak, chicken and barbecue. They also have shrimp and a vegetarian option. But beyond that, there isn't much variety. 
The menu is also fairly expensive for the portion sizes. Their lunch specials aren't too bad, although I think for a restaurant so close to campus it's still a bit pricey.
A basket with four tacos is $14, while a basket with two tacos and one side is $10, and the prices do not include drinks. 
Individual tacos sit at $4.25, and quesadillas are $10.50. 
I understand that, as a local business, prices are expected to be higher than chain restaurants, and I am all for supporting local businesses. But, I find that the lack of variety and the prices are overrated for the hype. 
I'm not a huge fan of street tacos and the Southwest type of food, so of course, that plays a large role in my opinion. 
For fans of Tex-Mex and Southwest Mexican food for a little higher of a price, The Local Taco is a great choice. I can understand the love for the restaurant, as it's so close to campus and draws plenty of families from out of town. 
But I find that there are plenty of other authentic local restaurants where you can get more food for a lower price. 
All in all, these restaurants, despite their popularity, probably don't provide the best food for their prices or flavor profiles. 
With the various Mexican restaurants around Lexington, you can get a better bang for your buck at other places. 
Quick picks
One of my favorite local Mexican restaurants is Papi's. 
They have great food at fairly reasonable prices, and that is my priority as a college student. It's casual yet has a great atmosphere, and their lunch specials are hard to beat. 
Another place to find authentic Mexican is Que Taco, a taco truck parked on Plunkett Street. Though informal, they have great carne asada and birria tacos served directly to your car. 
For a nicer sit down restaurant, Corto Lima in downtown Lexington has a good vibe and interesting takes on Mexican classics. 
Though their prices are comparable to those of Agave & Rye and Local Taco, I would argue their food is much more worth the price.
Overall, everyone's tastes are different. While some love the street taco scene and others prefer authenticity, Lexington has Mexican restaurants for everyone. 
So whether you agree with the hype over these local eateries or they're your last resort, you won't have trouble finding something to please your taste buds.