Patterson School of Diplomacy and International Commerce hosts annual crisis simulation
Students from different majors across UK gathered in Patterson Hall from Feb. 24-25 to participate in the annual Patterson School of Diplomacy and International Commerce crisis simulation. 
The Patterson School offers more than lectures, assignments and reading recommendations for summer break. The program teaches students how to negotiate and maintain good relationships with other countries during times of crisis. 
Each year, the school hosts a crisis simulation based on real-world events. This year's scenario was the Taiwan crisis. The simulation began with China threatening Taiwan with its military presence, which led Taiwan to declare a state of emergency. 
Students were divided into four countries: Japan, United States, China and Taiwan. Others joined the press team or worked in simulation control. 
Teams interacted with each other through email, meetings and Twitter exchanges that occasionally went awry. 
Suryakiran Nallapati and Elliott Cochran, both graduates of UK, handled the simulation control. They said they decided to center the crisis around Taiwan because they deemed it a potential geopolitical flashpoint. 
They said they tossed around this idea until they took Robert Farley's wargaming class, where it came to fruition. Nallapati and Cochran constructed the simulation together. Their preparation involved figuring out which countries should be integrated into the simulation.
"As sim control, you have the knowledge. You're the writers of the game. You understand all of the red lines that each country is unable to cross," Cochran said. "You are able to meet with every country and understand where they're at in their process of negotiations." 
Each team was designated a team mentor who used their knowledge of the crisis situation, treaties and agreements to advise students as they conducted negotiations. Amy McGrath, for example, provided guidance to team Japan.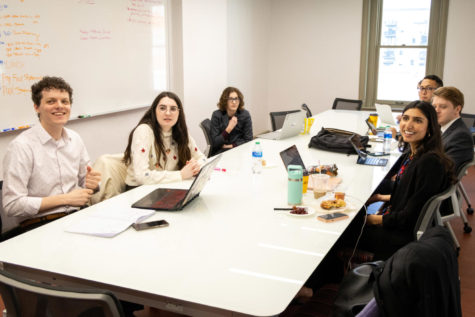 McGrath served in the military before running for the U.S. House of Representatives in 2018 and for the U.S. Senate against Mitch McConnell in 2020. 
Players' positions ranged from serving as senior diplomats to spying on China and the U.S. 
Stephen Vance, the senior diplomat for Japan's delegation, talked about what he learned and experienced during the simulation. 
"We've learned a lot about the stresses of dealing with different scenarios (and) developments between very tense negotiations," he said. 
Ishara Nanayakkara came into the simulation as an observer and later became a spy for the U.S. After exchanging China's confidential information with the U.S., she switched teams and began sending the United States' control information back to China. 
Simulation control assigned her to observe the United States. 
"I could follow them around and see … how they make their decisions (and) how they plan meetings," Nanayakkara said.
Drew Teague, a UK alum, acted as a reporter on the press team. He attended UK from 2009-2013, where he majored in journalism. 
Teague explained that the simulation has evolved since he attended the university. 
"It used to be overnight (and lasted) a full 24 hours … it seems like (this simulation is) a little smaller, less Patterson students as well, but it's just as equally as fun," he said.
As an undergrad, he participated in the crisis simulations and wrote for the Kentucky Kernel. After graduating, he worked as an attorney and no longer had the opportunities to put his journalism skills into practice.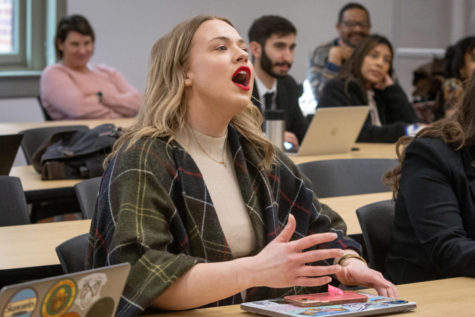 The spring 2023 Patterson crisis simulation enabled him to brush the dust off his journalism skills and test them anew, he said. 
"Earlier in the evening, I was questioning one of the diplomats, and he tried to switch the answer, try to make it like I asked a different question, and I called him on it, picking up on those details," Teague said. 
Kakie Urch, an associate professor of multimedia, also worked in the press team. She became involved with the simulation soon after the program started. 
Farley first approached Scoobie Ryan to get journalism students involved with the program. Ryan reached out to Urch to receive her help.
"For the first five years, we did it together," Urch said. "We set up different protocols, and we (held the simulation) in the basement of Grehan," Urch said. "Every year, (I've been) absolutely impressed with how much the students enjoy it and how surprised they are at how much interesting fun it is to be the international press corps."