Kentucky's confidence grows as it approaches final week of regular season
Kentucky mens basketball defeated Auburn 86-54 inside Rupp Arena on Saturday, moving the Cats to 20-9 on the season and 11-5 in the SEC.
The victory marked the Wildcats' fourth consecutive win, which tied their longest winning streak of the season.
Fans roared inside Rupp Arena as Kentucky led Auburn for the majority of the game and ended the night 32 points ahead of Tigers, marking the largest win the Cats have had over an SEC opponent all year.
With the win came a common word used by head coach John Calipari and players after the game: confidence.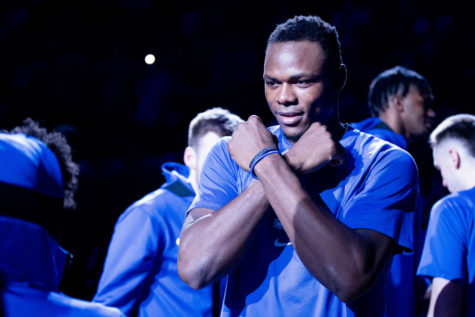 After recording an impressive 66-54 win over No. 10 Tennessee last week and an 82-74 victory over Florida in harsh and rowdy Gators territory on Wednesday, another SEC win over Auburn seems to have given the Wildcats the confidence they have been looking for all season.
"This is the time of the year. Everything we went through was just to build my confidence and be prepared for the time about to come: March Madness and the SEC tournament," Oscar Tshiebwe said. "For me now, I have no distractions. We play together and we just stay focused. I'm pretty confident right now with this team and where we're going."
Tshiebwe racked up 22 points and 17 rebounds against Auburn in addition to making all six of his free throws and shooting 87% (20-23) from the field.
His 25 points against the Gators and 22 points against the Tigers marked his two highest-scoring games in the month of February.
Complementing Tshiebwe was senior guard Antonio Reeves, who went 4-7 from beyond the arc, contributing 21 points for Kentucky with 18 of those points coming from the second half alone.
In his last five games Reeves has gone 15-31 on 3-point shot attempts, scoring in double figures in 13 of his last 15 games.
"It feels great," Reeves said. "Everybody was connected, talking on the defensive end. Everything was just going good for us, defensively and offensively so I'm happy about that."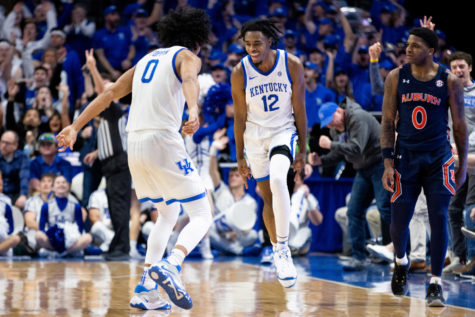 With the SEC tournament right around the corner, Calipari said he was happy with how his players are beginning to call plays on their own and working together successfully on the court.
"The biggest thing is you've got to trust all your teammates are on the same page so that you can be a risk taker, you can make some plays, you can be aggressive because your teammates are behind you," Calipari said. "And they also know and trust that whatever the game plan is, everybody's locked in."
Kentucky's 86 points against the Tigers is the most points the Wildcats have put up against an SEC opponent this season. 
Along with 41 rebounds, the team's 10 steals also marked the most Kentucky has had since its loss to Gonzaga on Nov. 20.
With the game going down as a successful one for the team as a whole, and for individual players, Kentucky has the opportunity to end the regular season on a hot streak.
"Refuse to lose," Calipari said. "Doesn't mean you're winning every game. It means your mentality of how you're playing. You never stop. The clock may run out on you. But you just keep coming. And these guys are embodying that right now."
The Wildcats will host Vanderbilt on Wednesday, March 1, for Kentucky's senior night game. The matchup will begin at 7 p.m. EST and can be watched live on the SEC Network.