Kentucky throttles Wright State 15-0 to clinch first home series
Kentucky baseball dominated Wright State on both sides of the ball en route to a 15-0 victory on Sunday.
The win saw the Cats bounce back after giving up four home runs on 13 hits in a 12-9 loss on Saturday.
Zack Lee made his second start of the season on the mound for Kentucky while Wright State started Alex Theis.
In the bottom of the first inning James McCoy doubled with a hit down the right field line, bringing up Devin Burkes, who slammed a home run to left field to give Kentucky an early 2-0 lead after one inning.
Lee promptly retired all three Wright State batters in top of the second. 
Jase Felker, Kentucky's designated hitter, singled to begin the bottom of the second and, while he would attempt to reach second via a sacrifice bunt by Grant Smith, Felker was thrown out by Theis.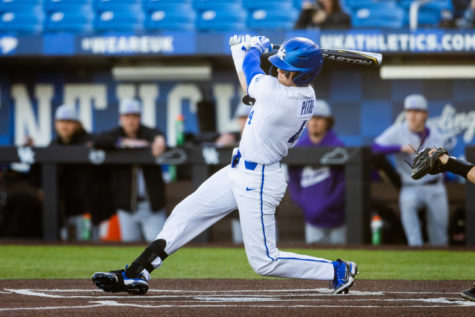 Smith would make up for lost ground though, advancing to third on a single by Reuben Church and, on the next at bat, Theis hit Jackson Gray to load the bases with no outs.
McCoy capitalized during his at-bat by driving home Smith and Church with a single before the Wildcats could answer again with a double by Burkes that brought McCoy and Gray home as well.
Wright State relieved Theis after allowing six runs in 1.1 innings pitched in favor of Garrett Peters, who allowed the Raiders to escape the inning without allowing another run despite Burkes being on third.
The right hand of Lee kept Wright State run less once again in the third.
Kentucky's first two batters were retired in the bottom of the inning, but Peters quickly lost his grip, giving up three straight walks. With the bases loaded Wright State replaced Peters with Calvin Mitchell.
Despite the swap, McCoy drove home another run, extending Kentucky's lead to 7-0 before the close of the inning.
The bottom of the fifth opened with Felker dinging a triple to right field and, after Mitchell struck out Smith, Church hit a sacrifice fly to right field to bring Felker in for a run. 
Kentucky opted to keep Lee on the mound for the sixth and he retired all three Wright State batters.
Chris Gallagher took over on the mound ahead of the bottom of the sixth for Wright State, retiring two Wildcats but giving up a walk and a single.
Felker then recorded an RBI with a single, extending Kentucky's lead.
Wright State placed Joey Valentine on the mound in the eighth, with the arm walking Emilien Pitre and giving up a two-run homer to Hunter Gilliam. Valentine would go on to give up another run to Gray before being relieved.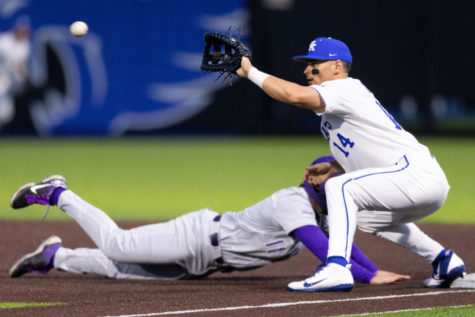 Garrett Simpson stepped on the hill for Wright State with two outs, hoping to retire the inning, but Burkes had another plan, hitting a double down the right field line to bring in three Wildcat runs.
When the dust had settled, Lee earned his second win of the season after pitching six innings, striking out six Wright State batters and only allowing three hits.
"I'm able to stay focused," Lee said. "I (just) gotta stay loose and keep (throwing)."
While Lee earned praise on the mound, Burkes knocked a career-high seven RBIs at the plate, acting as a spark plug offensively, going 3-6 with two doubles and a two-run homer.
"It was good," Burkes said. "I'm trying to come through for my team. We're clicking (offensively) and we've got to keep on going and piling on because we can get a lot better (moving forward."
The Wildcats improved their record to 5-2 ahead of a six game homestand with four different opponents.
Head coach Nick Mingione was pleased with Kentucky's performance in the bounce back win to take the series.
"Last weekend we lost the first game, so we had to come back to win a series," Mingione said. "We found ourselves in the same situation on Sunday with the series tied one-one. You gotta win the series. That experience has been good (to overcome)."
Kentucky takes on Morehead State Tuesday, Feb. 28, at 4 p.m. EST with the game set to air live on the SEC Network+.