'I have been disappointed by this institution.' Student body president hopefuls face off in debate
UK's Student Government Association hosted the 2023 presidential and vice-presidential debate in the Worsham Cinema in the Gatton Student Center on Feb. 21.
Dean of Students, Trisha Clement-Montgomery, moderated the debate, which featured four different campaigns.
The elect hopefuls ran in pairs, each including a presidential and a vice-presidential candidate on one ticket.
The tickets are as follows: 
Lizzy Hornung and Jason Marcus

Isaac Sutherland and Mallory Hudson 

Brooklyn Niravong and Patrick Haycraft 

Hallie Rice and Vendela Norris
The debate consisted of opening statements, a set of eight questions and closing statements. The candidates also had the chance to make rebuttals before moving onto the next question presented. 
The opening statements consisted of introductions of each candidate's platform as well as what they wish to bring to UK SGA if elected.
All four candidates echoed sentiments of making students voices heard, improving campus resources and increasing student outreach.
Lizzy Hornung and Jason Marcus are running with the goal to create change through direct discussion and involvement with students at UK. 
In their platform statement, Hornung and Marcus said they will look to give all students a voice.
"I'm here tonight to present the many reasons why I'm driven and insistent on making consequential changes to serve your needs for success," Hornung said at the debate.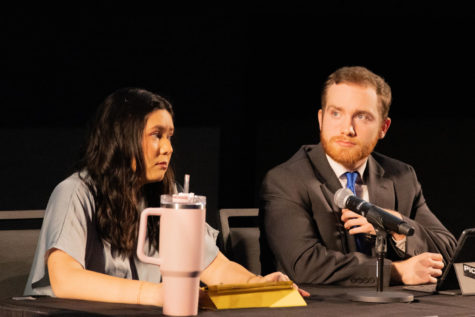 Brooklyn Niravong and Patrick Haycraft of the Niravong-Haycraft campaign are running with the intent to improve life at UK with a structured plan in the form of pillars. The two have a combined experience of six years in SGA and vowed to operate upon their three campaign pillars if elected. 
"The main priorities of our platform fall under three pillars: students experience and well-being, representation and unbridled authenticity," Niravong and Haycraft said in their platform statement.
Niravong thanked debate attendees for their dedication to shaping student policy. 
"The best way to shape policy is to hear from the student body and get the student body engaged in SGA and its work. All in all, we really appreciate you being here," Niravong said.
Niravong is currently the assistant director of health and wellness for SGA.
Haycraft served as a senator during his freshman year and for the past two years has served as the senator for the College of Education. He is also the academic and student affairs chair, which is an executive position in the senate.
The Niravong-Haycraft is not the only campaign with previous SGA experience. Sutherland and Hudson sat on the stage for the second year, after a loss in last year's election. 
"One year ago, Isaac and I sat in these same seats sharing our vision for a better UK sga. Initially, we were heartbroken to not be chosen as your elected representatives, but it was after coming home to a host of support that we realized our work was not in vain," Hudson said. 
After the tough battle for last year's election, the two set out to fight for the seat of president and vice-president once again. 
"Over the past two years, Isaac and I have had the privilege of learning from hundreds of students across campus about what it truly means to be a member of the Wildcat community," Hudson said.
The Sutherland-Hudson campaign is running this year with a goal to advance student health and student life. 
"We are committed to enhancing student wellness here on campus. This means creating a greater holistic support system for student health," Sutherland and Hudson said in their platform statement.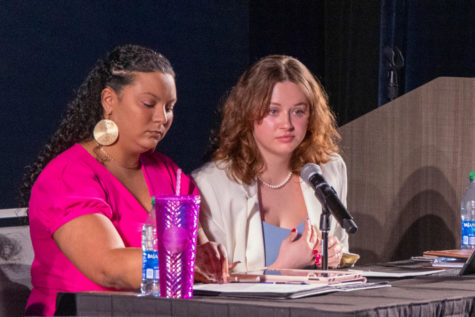 The Rice-Norris campaign hopes to bring a fresh set of eyes to the office of student body president and vice president. 
"As a first generation black student from a low income household in Louisville, I've worked hard to get to my dream school, the University of Kentucky," Rice said.
Rice and Norris are running with the desire to make campus accessible with a large focus on diversity, equity and inclusion (DEI). 
"Representation and inclusion matter, which is something our whole team prioritizes," Rice and Norris said in their platform statement.
The running mates also took  time to voice their frustrations and address what they would do differently as president and vice-president. 
"Time and time again, I have been disappointed by this institution and the way that it treats students. I'm running for student body president because I know what it feels like to be underrepresented," Rice said.
DEI showed to be an important topic among the tickets. Each campaign discussed plans to increase DEI initiatives at the debate.
Niravong reinforced her devotion to inclusion and equity at UK. 
"I promise to advocate not only for improvements in funding for other minority groups, but also to press administration to address these issues with much more proactivity and attention," Niravong said.
Her running mate, Patrick Haycraft, echoed this statement of dedication by referencing incidents he has run into as a resident assistant on campus. 
The ticket offered the commitment of staying updated when bias-based incidents occur as well as providing students with multiple resources in the instance that an incident happens.
Sutherland quoted the SGA constitution during the debate. He referred to the statement that all UK students have a place in SGA, as well as shared one of the values from the Sutherland-Hudson platform. 
"Our belief is that an accessible and equitable UK SGA starts with us and no student should be excluded or prevented from having their voice heard," Sutherland said.
The topic of DEI sparked rebuttals from nearly every campaign. 
"I would just like to point out that sitting here today, I am the only Black woman on the stage. We bring a vast array of different experiences from the other candidates sitting (here)," Rice said.
Other campaigns took the opportunity to further push aspects of their platform which DEI sustains. 
"We just wanna add that when we're talking about the campus community, that also means off campus for students that are penny pinching to come to this university," said Marcus of the Hornung-Marcus campaign.
The final topic of the debate was how the presidential and vice-presidential elect would form a stronger connection between UK administration and the student body.
The Rice-Norris campaign addressed issues they believed were prevalent and offered a solution for how they would solve them. 
"We believe that there's a lack of communication from the general student body to SGA and within the administration," Norris said. "Having a space for students to come to SGA and discuss their issues, regards for accessibility and safety, concern about discrimination on campus … All of those concerns are valid and we are here to represent those concerns."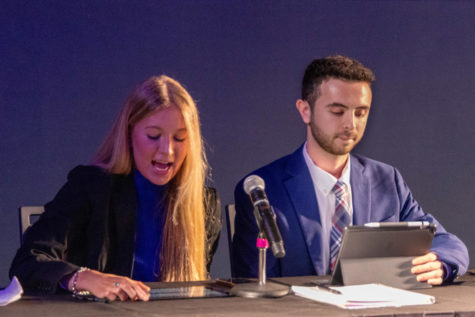 Marcus, of the Hornung-Marcus campaign, acknowledged the audience directly when making his response.
"Sitting in the audience right now, it seems as if [some of you may think] 'I have some things that I want to say and I want to go up there and make my own change,'" Marcus said. "If Lizzie and I were inducted to be your student body president and vice president, we want you to understand that we are not speaking for you, you're speaking through us." 
The auditorium punctuated Marcus' statement with an outpouring of applause. 
Both members of the Niravong-Haycraft campaign cited their past efforts with administration-student connection in their discussion. 
Niravong referred to her contributions in ridding styrofoam to-go boxes in dining halls, encouraging naloxone training to combat opioid overdoses and her correspondence with the Office of Student Success.
Hudson, of the Sutherland-Hudson campaign, referenced the ticket's motto of "bridging the gap" and becoming the liaison between different student organizations and administration. 
Hudson also referenced her past experiences and involvement on campus as foundation for the campaign's promises. 
"For my freshman year in the leadership development program, I began forging very important relationships with administrators that then continued into my time on SGA's executive board as the director of marketing and communications," she said.
The debate concluded with closing statements from each ticket, where they further pushed and advocated for their platforms.
The Hornung-Marcus campaign took a vow to be the voice the student body may be lacking. 
"We are tired of be given being given a seat at the table only for it to be filled with a void of silence and untouched responses," Marcus said. "It is time to kick the chair, stand up and govern the table for the room that was designed for you. Your voice matters."
The Niravong-Haycraft campaign opted to be transparent with the audience. 
"We're all human beings and we're all students. We're not gonna claim to have all the answers on fixing these problems," Niravong said.
The Niravong-Haycraft ticket took the opportunity to further vocalize their wishes to hear from students.
"We want to hear from you guys about how we can do better as your advocates," Niravong said. 
The Sutherland-Hudson campaign echoed similar sentiments, vowing to make student voices heard "through accurate and equitable advocacy."
Throughout the debate, Hudson referenced the personal connection she and Sutherland wish to make with students. She further explained this sentiment in the campaign's closing statement. 
"If Isaac and I are able to assist you in feeling more connected, more passionate, more heard … then our efforts will have been well worth it," she said. 
The Rice-Norris campaign emphasized their want for change and implementation of long-lasting policy. She further stressed the ticket's goal to provide unique approaches to problems.
"Hallie and I are here to change the narrative and admit solutions to outlive our administration," Norris said. "We are here because we cannot address campus safety with one size fits all approach."
The election commissioner, Jacob Keeton, helped to facilitate the debate. 
"I worked alongside with our advisors, you know, and Dr. Tricia Montgomery to, you know, prepare everything basically from the ground up," Keeton said.
As election commissioner, Keeton helped each ticket to prepare for the debate as well as create questions to ask the respective tickets. 
"(I helped with) questions, communicating with the student body to get topics for questions and just overseeing," Keeton said.
SGA has been preparing for the spring presidential and vice-presidential debate since last semester. 
Voting will open on Feb. 27 and end on Feb. 28, and can be done on BBNvolved.