UK Board of Trustees discusses possible expansion, appoints faculty positions
The University of Kentucky Board of Trustees met to appoint faculty positions, present awards and expand city planning on Friday, Feb. 17.
The University Healthcare Committee chair, E. Britt Brockman, reported on the research on the improvement of healthcare for underserved populations within UK healthcare. 
"UK Healthcare's Chief Diversity Officer Tukea Talbert presented information to the committee on how UK Healthcare is working to identify gaps for vulnerable populations and addressing those needs," Brockman said.
Brockman said that the committee recommended approval for the purchase of an additional 14 acres in Hamburg for the construction of a new medical campus and approval for additional property needed for a new Markey Cancer Center outpatient location. 
The board approved D. Michael Richey to receive the title of University Staff Emeritus.
"Mike served the University for nearly 50 years, and in doing so built a remarkable career which has made an indelible and lasting impact on his alma mater," UK president Eli Capilouto said.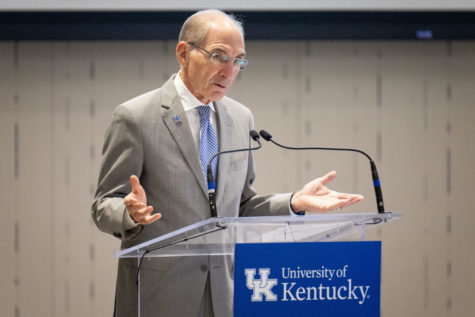 The board also approved W. Lawrence Patrick to be awarded an Honorary Doctor of Humane Letters. 
Capilouto said that the Gluck Equine Research Foundation nominating committee recommended multiple appointments to the Provost that needed to be approved by the board. 
The board approved the reappointment of Clifford Barry, Adam Bowden, Cormac Breathnach, Gary Bush, Harold V. "Bo" Goodman and Ned Toffey to the board of directors of the Gluck Equine Research Foundation. Their term will end in May 2026.
In Capilouto's report to the committee, he highlighted how important free speech is on campus. Capilouto said that the campus is fueled by open and vigorous debate. 
"A deep commitment to inquiry, wherever it takes us, and the understanding that everyone, everyone, no matter who they are, where they come from and what they believe is welcome," Capilouto said.