Once a formidable hurdle, Rupp Arena has seemingly become just another SEC road game
There was a time not so long ago when opposing teams dreaded entering the fortress of Kentucky Basketball, preparing to be plagued by electrifying players and fanatic spectators. 
Since the move from Memorial Coliseum to Rupp Arena in 1976, Rupp has become a symbol of the storied success of the unrivaled dominance of the basketball program, with the team finishing the 2021-22 season undefeated inside the arena entirely. 
Unfortunately for the Cats, it appears that reputation may be no more.
The magic that once filled the hallowed seats of Rupp has faded. The noise and energy sucked right out of the air.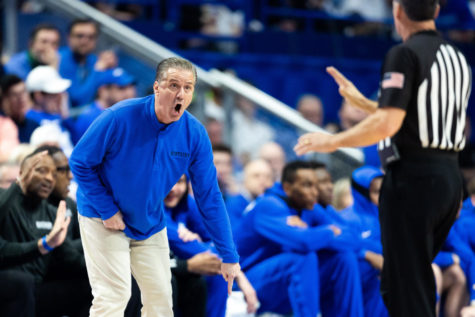 The noise which erupted after historic wins and climactic finales has dwindled into slight murmurs, similarly comparable to that of this season's mens basketball team. 
In fact, the 2022-23 season marks the first time, excluding the pandemic year, that John Calipari has lost more than two games in Rupp Arena in a single season. 
The Cats suffered another disappointing defeat at home on Tuesday night, falling to the Arkansas Razorbacks 88-73 in a display that was haunted by a disastrous second half by Calipari's team. 
The second half saw the Cats outscored 47-33, a collapse that was highlighted by weak interior defense and a deflating display of shooting. 
Expanding upon the subpar frontcourt, the Cats let the Razorbacks score 46 points in the paint across both halves, making up more than half of their total points for the entire game. 
John Calipari was adamantly frustrated with the lack of physical defense and the ease of Arkansas's interior game. 
"Our rim protection was awful," Calipari said. "I can't get guys to body up and do this stuff, and they did a great job of bodying up us." 
Arkansas also shot the ball incredibly well, thanks to the backcourt duo Anthony Black and Ricky Council IV, who put up 19 and 20 points, respectively. 
The Razorbacks' 62.7% shooting from the field marked the best shooting performance by an opposing team inside Rupp Arena since Northwestern State shot 65% in 1985 in the first season under head coach Eddie Sutton, who took over for Joe. B Hall. 
Inconsistency and lack of physical defense has ravaged the Wildcats this season, with the Razorbacks utilizing the pick-and-roll to perfection, similarly to Kansas, which employed the same tactic to rile up Oscar Tshiebwe and Jacob Toppin. 
"There was one point I said we're throwing it to him every time," Calipari said about Tshiebwe's performance. "We were trying to get it in to him. I thought it worked at times, and other times they were getting around the post, they trapped him, or they just bodied him. He's gotta be better for us, but he will be."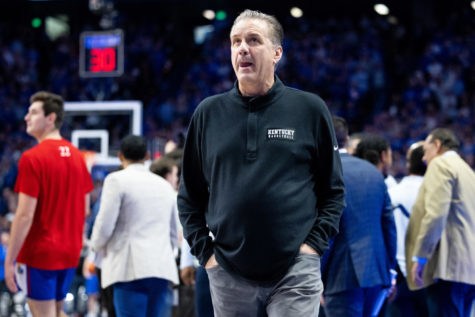 Chris Livingston, who was a rare bright spot in an otherwise bland offense, posted a career-high point-total of 13, but the staunch Razorback defense quickly swallowed up his opportunities in the second half. 
"They crowded the court a little bit on him," Calipari said. "He missed some shots, he had shots in the second half, but he missed some of them, but he did good. He's getting better and better and getting more confident and mixes it up, and that's all I can ask." 
While not the first person to come to mind in terms of shooting the long ball, Livingston led the team in three pointers, making two out of his three attempts. 
Despite that, Livingston felt like his and the team's defensive intensity was severely lacking. 
"I gotta be better," Livingston said. "My intensity wasn't as high as it should have been, so I have to speak for myself." 
With Kentucky's six-game conference win streak now broken heading into a road rematch against Georgia, the Wildcats are once again going to be forced to regroup and earn a bounce-back home victory next time out inside Rupp Arena, just as they did after losing to Kansas and South Carolina earlier this year.
Tip-off against the Bulldogs is scheduled for noon EST on Saturday, Feb. 11, and will also broadcast live on ESPN. Kentucky's next opportunity at home is scheduled for Saturday, Feb. 18, when it hosts No. 6 Tennessee.