Board games and beans: Lexington's Chaotic Good Coffee is the best of both worlds
Chaotic Good: Coffee, Comics and Games Shop opened their doors for the first time on Jan. 12, located at 561 South Broadway, suite 160.
When customers first walk in, they are greeted by a barista to their right and a tabletop for board games to their left.
The unique name and theme of the shop blends into the environment created by its three owners, Alex Camp, Marian Turner and Jim Read.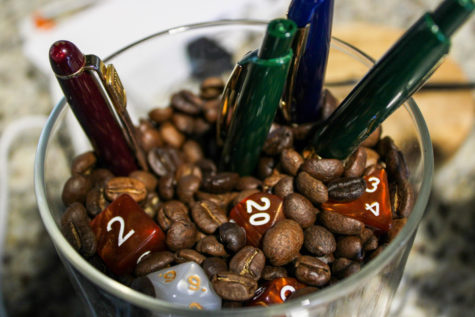 "(We want to be) a place where anybody can come in, feel welcome, warm, comforting, that kind of clean environment. So that's kind of where the good comes from. The chaos is just from the amalgamation of all the different parts and pieces that we have going on here," Turner said.
Customers are welcome to play a free selection of board games curated by the shop. Chaotic Good also hosts nights where newcomers can learn the ropes of games like Dungeons and Dragons or Call of Cthulhu.
Similar to the chaos of the shop is the relationship the three owners have with one another.
"Jim and Alex have been best friends since kindergarten. So they grew up together, they're basically brothers," Turner said. "And Alex and I are married. We met here in Lexington about five years ago. He went to EKU, and I went to Transy (Transylvania University)."
The idea for the business came around seven years ago, when Camp had just gotten out of the Marine Corps and Read was working at a comic book shop in the Chicago area, where the two grew up.
"We could do this (the comic book shop) better," Camp said. "But me being fresh out of the military and (Jim) being fresh out of college, we did not have the capital or the means to do anything about it."
After Turner and Camp's marriage, they looked at owning a coffee shop, along with a little selection of comics and games.
"As we started going through, we realized no, it shouldn't be a little bar in the back," Camp said. "We can do a nice (old) coffee shop and this."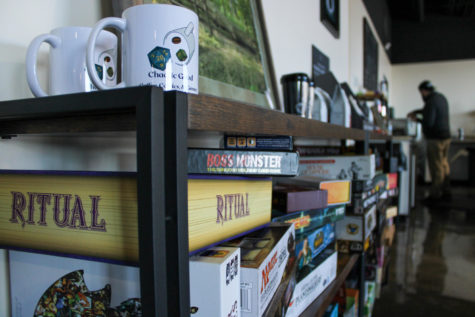 For Read, the business venture marked a return to Kentucky after a brief stint in Louisville as a youth minister.
"I'm here for good," Read said. "Even told my girlfriend, I'm like no, no, you're gonna have to move to Kentucky."
The Chaotic Good Coffee Shop hopes to get involved with students as they try to partner with some of the tabletop and board game clubs at UK. Additionally, since the shop is located under the LEX apartments, it offers a 10% discount for residents.
Read said the shop also hopes to partner with artists in the area, particularly ones from UK.
"Any art students that you know, we have an artist spotlight here every month," he said. "So basically every month we'll have a new artist in here with a bunch of their stuff to sell and we're not looking to take anything off the top of that, it's free to the artist of the month and whatever we sell for them is theirs to keep."