Despite missing a top player, the Cats defeat Alabama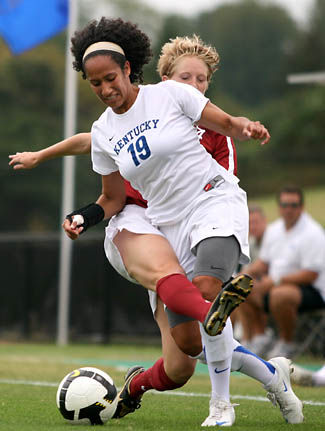 By Alex Risen
The Cats (3-5-2, 1-0-1 Southeastern Conference) opened their conference schedule against the Auburn Tigers (4-4-2, 0-0-1 SEC) and Alabama Crimson Tide (6-3-1, 1-1-0 SEC), without one of their top players.
Sophomore forward Laura Novikoff was forced to sit out against the Crimson Tide on Sunday after she suffered a broken nose against Auburn on Friday.
Novikoff, who leads the team with five goals, caught the back of an Auburn defender's head while trying to head the ball in during the second overtime against the Tigers with just 3:22 remaining during the Cats 0-0 tie.
"I just went up for the ball and wanted to end the game," Novikoff said. "Instead of hitting the ball I hit the defender's head and now I have to wait for a mask before I can play again. I should be back on Friday against South Carolina."
The absence of Novikoff did not slow down the Cats offense however, as they defeated the Crimson Tide 2-0, in a physical battle.
UK was able to draw five fouls on Alabama in the first half, one of which led to the first of UK's scores.
Senior midfielder/defender Kristin Kover buried a penalty kick past Alabama goalie Kara Gudmens to put UK up 1-0 with 10 minutes remaining in the first half. The kick was awarded after Gudmens tripped UK forward Klondra McGee inside the box.
"I was just excited to get my first goal of the season and put us up 1-0," Kover said. "Klondra did all the work, I just finished it."
UK outplayed Alabama as the Cats earned six corner kicks to the Tide's one. The Cats also outshot the Tide 17-8.
Sophomore forward Giuleana Lopez put the Cats up 2-0, 12 minutes into the second half on an assist from senior defender Kate Hughes.
"Katie just put in right between the goalie's legs and as soon as I saw it I thought free ball," Lopez said. "I knew I could just slam it into the net so I made sure I put it away. I was excited to get my second goal and I think I'm getting comfortable now."
The Cats defense flexed their muscles by not allowing a shot on goal until there was nine minutes remaining in the half and posted their second consecutive shutout.
"We're coming together now," UK head coach Warren Lipka said. "Sydney posted two shutouts this weekend and our backs and midfield are really starting to get comfortable. It's my job to just keep them that way."