Two students and Kernel photo adviser arrested at RNC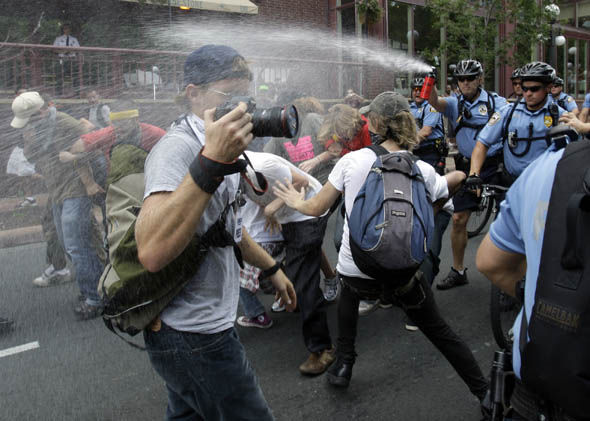 By Ali Cicerchi and Jill Laster
Two UK students and the photo adviser for the Kentucky Kernel were arrested at the Republican National Convention Monday afternoon in St. Paul, Minn., on charges of felony rioting. They were photographing the protesting of the convention.
Photographers Ed Matthews and Britney McIntosh and adviser Jim Winn were three of 286 people arrested as convention protests escalated into riots Monday.
All three were arrested are being detained at the Ramsey County Adult Detention Center in St. Paul, until noon, said jail officials.
They will be charged no later than Wednesday, said jail officials. If convicted, Winn, Matthews and McIntosh would receive a minimum sentence of one year in jail and have to pay a minimum fine of $3,000.
Matthews and McIntosh were not covering the event for the Kernel, but were there on their own accounts, said editor in chief Brad Luttrell. The Kernel decided not to cover the Republican National Convention to keep coverage neutral since it had not covered the Democratic National Convention.
"They were still clearly marked as media," Luttrell said. "They're two of the most experienced and ethical photographers we have, and I'm certain they were not participating in the protests."
Photographer Carla Winn, who was with her husband Jim Winn at the convention, said the problems at the Republican National Convention started when a group of protestors broke off from the main group. People started "smarting off to cops," said Winn, who said she slipped behind a building while her husband got mixed in with protestors.
The police tried to move the protestors back, Carla Winn said, but when they couldn't, they started spraying people with pepper spray.
Jim Winn and McIntosh obeyed the police order to lie on the ground, Carla Winn said. She didn't see if Matthews laid on the ground or not.
A friend of the Winns, Jonathan Woods, witnessed the riots as well. Woods, also a photographer, said that the police warned the protestors before using chemical deterrent.
"There was a pretty good volume of tear gas and pepper spray used," Woods said. "The rubber bullets are what really got people moving."
Woods said that it was a dynamic situation and the cops had a hard time getting a handle on things.
"We talked about safety before they went," Luttrell said. "They had emergency phone numbers on their arms.
They had badges that said press. Britney's asthma medication was taped to her leg. Sometimes things get out of hand, and we discussed all of that before they left."
Of those arrested Monday, four were journalists accredited with the Republican National Convention, said Tom Walsh, public information officer for the St. Paul Police Department. However, he said, that does not include journalists affiliated with Republication National Convention-accredited groups, including some bloggers and photographers such as Jim Winn, McIntosh and Matthews.
Such a small group of accredited journalists being arrested means police aren't targeting journalism, but criminal behavior, Walsh said.
"There are literally thousands of journalists here, and they've managed to cover their stories (without getting arrested), which would imply there's nothing going on there," Walsh said.
Amy Goodman, the host of TV program "Democracy Now!", was arrested along with two of the program's producers. Associated Press photographer Matt Rourke was arrested as well. Rourke photographed Matthews being sprayed with pepper spray before both were arrested.
"If journalists are being arrested and the police are not separating them from the rioters, who is going to be there to report on the event itself?" Luttrell said. "Journalists being arrested for doing their job is a form of censorship."
Although overall security was tight at the convention, Goodman was "thrown in the paddy wagon and her credentials were ripped off," said Jane Kirtley, executive director of the Reporters Committee for Freedom of the Press from 1985 to 1999.
"I think it's important to acknowledge the police do have a job to do and we don't condone the destruction of property," Kirtley said, "but the point is journalists have a job to do and that they should not be impeded from doing that work. Their First Amendment rights should be respected."
Matthews, McIntosh and Winn could not be reached for comment. They are scheduled to be released Wednesday around noon.