Targeted by opposing offenses, Jones eager to become household name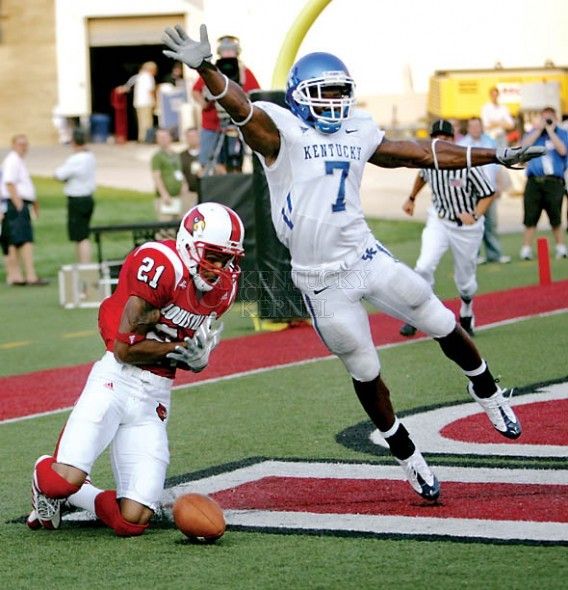 Senior cornerback David Jones lunges in front of Louisville wide receiver Troy Pascley to deny the Cardinals a touchdown during UK's 27-2 win Sunday. Jones broke up two passes during the Governor's Cup. Photo by Brad Luttrell | Staff
Opposing quarterbacks are going to throw at senior defensive back David Jones. Opposing offensive coordinators are going to scheme their game plan for it. But it's not like Jones isn't prepared.
"I definitely feel teams are going to throw to my side," Jones said. "That's normal with an All-American corner on the other side."
Jones is right, as teams have learned the past two years to avoid throwing at junior cornerback Trevard Lindley at all costs. With senior Marcus McClinton and junior Ashton Cobb playing safety, that leaves only one target for opposing offenses to key on in the passing game: Jones.
But Jones is proving he could be a dangerous target to throw at as well. Against Louisville, Jones had three tackles and two pass break-ups. That includes spending most of the day covering 6-foot-8 Louisville receiver Joshua Chichester, who is 10 inches taller than Jones' 5-foot-10 frame.
"I think he's played the best game since he's been here," UK head coach Rich Brooks said during a Tuesday news conference. "He's a physical guy, and this is his last year and I know he wants it to be a great year. He started out playing outstanding football."
While Lindley gets all the attention, Jones feels like if he continues to improve, people will start to mention his name alongside his teammates.
"If I can continue to work on my mistakes I'll eventually get my name out there too," Jones said.
Part of the reason why Jones isn't a household name has a lot to do with the uncertainty that has surrounded his career. As a reserve corner his freshman year, Jones played in 11 games, totaling 20 tackles and three pass break-ups. That performance led to Jones being named to the All-Southeastern Conference freshman team.
But things changed when Jones was moved to wide receiver and played on special teams his sophomore season. He totaled 12 tackles playing in all 12 games on special teams and pulled in seven receptions for 101 yards and no touchdowns as a wide receiver. As a junior, Jones was moved back to corner before injuries sidelined him for two games. Jones recovered in time to play in 11 games, including the Music City Bowl, with 11 tackles, but never had a chance to establish himself during the season.
Now, with all the changes finalized and Jones firmly entrenched in the second corner position, his teammates have all the confidence in the world for their partner in the defensive backfield.
"David worked a lot this summer in man-to-man coverage," McClinton said. "David always had the ability to play corner."
Now that Jones is finally getting the opportunity to show his ability, he wants to make sure opposing teams don't get comfortable throwing at him.
"I don't want teams to think they can just throw on me," Jones said. "When I make the plays, they have to go to the run game."
After years of uncertainty, Jones learned that preparing is the best option he has. It's also the reason why Jones thinks he can help shut down the entire field to opposing teams.
"All I have to do is prepare," Jones said. "If you do that, you'll have great success."
Starting tackle injured
Senior left tackle Garry Williams is questionable to doubtful for Saturday's game against Norfolk State in Commonwealth Stadium, Brooks said after Wednesday's practice. Brooks said that Williams had problems with his knee after practice on Monday and was held out of practice on Tuesday.
Despite being held out, Williams' knee worsened. Brooks said he expects Williams to undergo an MRI soon. The tackle has been the anchor of the offensive line for the last three years, earning second-team All-SEC honors last season.