Rough road ahead for Avenue of Champions traffic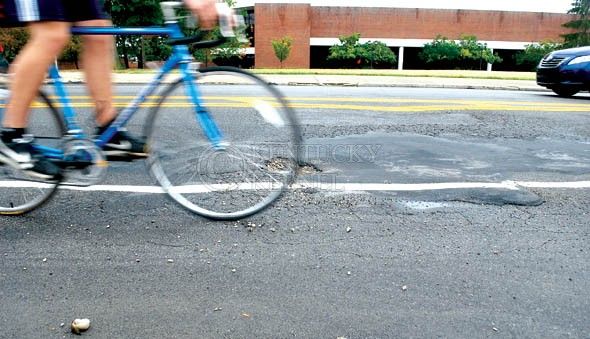 By
A cyclist bikes past the potholes on August 24 on Avenue of Champtions. Both bikers and drivers must be wary of the large potholes on Avenue of Champions. Photo by Everett Cislo | Staff
"A pothole patch is a temporary fix and will only last for so long until a more permanent fix can be put into place," Gossom said. "When money becomes available, deteriorated roadways are considered for resurfacing for a longer lasting fix and smoother ride."
According to Gossom, the potholes have been fixed in the past by Lexington-Fayette Urban County Government.
The potholes were formed on this road from the weight and number of vehicles in the area that causes the road to wear down over time, said Steve Farmer, transportation engineering branch manager for the Kentucky Transportation Cabinet. Avenue of Champions is a road that was constructed a long time ago and it does not have a good base under it, he said.
"These (failures) are caused when the structure of the pavement wears out under repetitive traffic loads or heavy traffic loads," Farmer said. "There are a good deal of trucks passing through here."
Lydia Penix, a Lextran driver who makes 26 daily trips across Avenue of Champions, said she can feel the potholes when she crosses.
"(The potholes) are frustrating when you have to drive on a day-to-day basis," Penix said. "The transportation department has to stay on top of this problem."
During the fix tentatively set for October, one lane of traffic on Avenue of Champions will be shut down to completely remove the potholes and rebuild it back for a better roadway surface. The patching will cost about $3,000.
Sam Saeed, manager of Campus Café, said the road has been fixed several times, but heavy traffic is hindering road repair.
"Big trucks shouldn't drive on the road. The roads at UK should appeal to the campus. It is really hard to judge what they are doing, and a better way of fixing them would to repave the whole thing."