First Gluck Center director dies at 81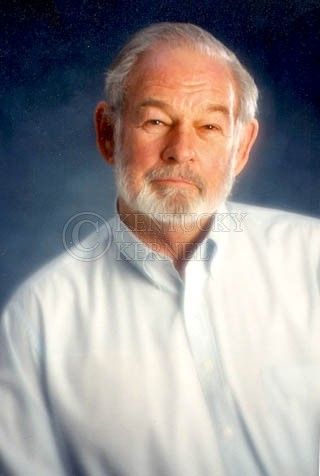 By Jill Laster
For James Rooney horses were a passion that lasted as long as his life.
Rooney, the first director of the UK's Maxwell H. Gluck Equine Research Center, died of complications from cancer in his Chestertown, Md., home Friday. He was 81.
Rooney was an expert on equine pathology and anatomy, and he studied the way horses move.
What many people say is their strongest memory of Rooney is his gift with words, said Audrey Rooney, his wife of nearly 48 years. James Rooney authored several books on equine science and acted on-and-off in plays throughout his life.
In fact, it was while acting that Audrey Rooney met her husband in 1960. Her all-women's school, Hood College, needed a man to fill the role of Mr. Darcy in its production of "Pride and Prejudice." James Rooney, at the time working as a pathologist in a government lab auditioned and got the part.
When she took the stage as Elizabeth Bennett, Mr. Darcy's love interest, Audrey Rooney was struck by James' sonorous voice and strong arms.
"I can't say it was love at first sight — that's kind of cheesy," she said, "but I went back and told my roommates this is the guy I'm probably going to marry."
Audrey and James Rooney married later that year.
Rooney became interested in horses while spending summers on a family farm in southern Maryland. He liked the way horses moved and wanted to solve the mysteries behind diseases that plagued the animals, Audrey Rooney said.
As a student at Dartmouth College, Rooney studied English drama and biology. After graduating from Dartmouth in 1948, he attended veterinary school and, while in veterinary school, published his first book, "Autopsy of the Horse."
After leaving his post as a pathologist at Fort Detrick's biological warfare lab in Maryland, Rooney joined UK as a professor in 1960. He left UK in 1969, working in roles at the University of Pennsylvania School of Veterinary Medicine and at other posts, but returned in 1984.
He served as head of the Gluck Equine Center from 1987 to 1989. He stepped down because of professional differences with UK's then-president, David Roselle, Audrey Rooney said.
At UK, Rooney used his sense of stage presence to command a room, giving some of the best lectures around, said Ernie Bailey, a professor in the Gluck Equine Center. As an administrator, he had a knack for listening to people and responding to their problems, Bailey said.
Outside of the classroom, Rooney always took special interest in talking to people from across the horse industry, from the top officials to the horseshoers, Bailey said.
"I think it was pure enjoyment," Bailey said. "That's your mission here at the university is to take that knowledge and put it in the hands of people. Jim was one of the best at that."
Rooney retired in 1995, but he continued his research until the end of his life, focusing on paleopathology, the study of ancient diseases. During his final months, he also spent time with friends who knew he had cancer.
Toward the end of his life, Rooney remained upbeat, keeping the traits friends remember well, said David Powell, a professor in the Gluck Equine Center.
"Jim Rooney was quite a dynamic and forceful character," Powell said. "Certainly you always knew when Jim Rooney was in the room."
James Rooney is survived by Audrey Rooney; daughter, Melinda Florsheim of Mequon, Wis.; son, Alec Rooney of Roanoke, Va.; and five grandchildren.
A memorial service will be held in November in Maryland. One may also be held in Kentucky at a later date.
At Rooney's request, his ashes will be scattered at Assateague Island National Seashore, an island off the east coast of Maryland famous for its herds of wild horses.