Renovations to revamp art building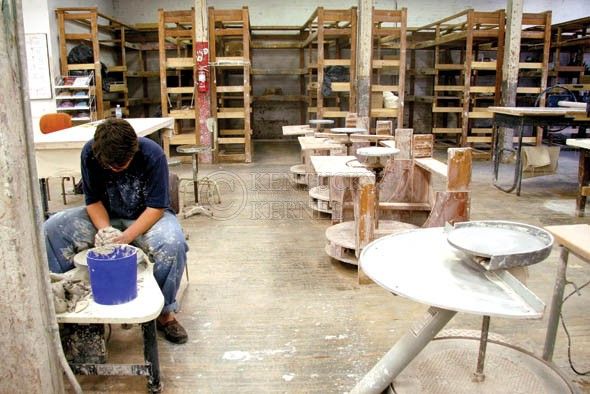 Art studio junior Will McComb works on a throwing wheel on Tuesday, Sept. 2, 2008. McComb, who transferred to UK this year, believes that while he has not spent much time in the building, it's definitely time for renovation. "This building needs a lot of work." Photo by Allie Garza | Staff
Art studio junior Ben Owen, left, screenprinting instructor Kathryn Martinez and art education student Lisa Mueller work on creating a screenprinting board yesterday in the Reynold's Building. Photo by Allie Garza | Staff
By Ali Cicerchi
The "most derelict building on campus," is getting a makeover, according Bob Shay, the dean of the College of Fine Arts.
Reynolds Building 1, home to the College of Fine Arts, is part of a group of five acres with four buildings off of Scott Street that will be sold to a developer to give the block a new look and make structural and facility improvements to the studio and classroom workspaces.
The university is requesting proposals from interested developers to renovate the buildings and the area, said UK Director of Purchasing Bill Harris.
"We are looking for a developer to buy the building, renovate it and lease it back to us as will be a condition of the contract," said Harris.
Reynolds Building 1 was built in 1917 and has been home to the department of art for more than 30 years.
"The need for a new fine arts building has probably been known for decades," Harris said.
Harris said the 91-year-old building is run down and in need of structural improvements, but some students who have classes or work in the facility's studios don't mind the building's current state.
"I like that it's old," said Heather Carlin, a biology freshman. "It's what an art building should look like I think."
The building is known for its artsy atmosphere, which some students fear losing. But Travis Shaffer said the improvements would be worth it.
"I've heard some people worried about the ambiance of the old building being gone but I think the benefit of an up-to-date facility means more than being able to paint on the walls," said Shaffer, a fine arts graduate student.
The deadline for proposals from developers is Oct. 15, and then a committee including staff from the College of Fine Arts will select a developer based on their qualifications, experience, financial stability and their plans for the area.
"I couldn't be more thrilled," said Shay. "I think this is a highly creative way to get something new for the university."
Shay said the College of Fine Arts has been involved in the process of the request for proposals since the beginning.
All renovations will take place without having to move students out of the building, Harris said, and the developer will be informed of that as a stipulation to the construction.
"We are going to try to force students to move (within the building) as little as possible," said Shay.
Understanding that it is an art building, Shay doesn't think the renovations will put restrictions on what students can do in the new building.
"It's art, it's messy. We understand that," said Shay.
Renovations will mean improvements and benefits of a new building such as better air quality, said Katie Rafferty, an art education and art studio junior who is in favor of the building updates.
"Air would be awesome," Rafferty said. "I think it would be a good idea as long as it doesn't impede our work."
Shaffer said the renovations will be beneficial to students as long as they allow enough space for each fine arts department.
"I don't have a problem with new things," Shaffer said.
If these improvements mean a safe building with well-lit workspaces large enough for students, Shay said he is in favor.
"We want to be able to show this building off," he said.