COLUMN: GameDay provides another milestone possibility for Cats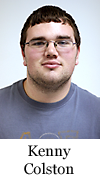 In an effort to be the best at everything, UK seeks to do it again — set another milestone that would put it at the top of some college basketball list. 
UK already holds records for most wins, first to 2,000 wins and highest attendance (the 2004 BasketBowl in Detroit), among others. Now, the Cats want to lay claim to the biggest audience ever for an ESPN College Basketball GameDay show.
The target date: Feb. 13. That night's opponent: Tennessee. The GameDay taping will be from 11 a.m. to noon, while the game is at 9 p.m. And the opportunity isn't limited to just students like previous years.
Here's the skinny on how to get a special GameDay ticket: first, if you're reading this in the Kernel's special lottery section, then pray you're one of the first 2,000 through the line. If you are, then you get a free GameDay ticket.
If you aren't reading this in our lottery section, then you'll need to wake up a little before 10 a.m. on Jan. 25, and access the Ticketmaster Web site. You'll only be charged Ticketmaster's convenience fee and you can buy up to eight tickets.
With that type of access, I don't think UK is kidding. Actually, they aren't. At all.
UK head coach John Calipari and UK President Lee Todd will address the crowd. Attendees will get a special UK2K poster available only at GameDay. Former UK players will sign autographs. The bells and whistles are already planned for, all that is needed is 23,000 butts in 23,000 chairs.
"I know our fans are the greatest in the world," Calipari said in a news release. "They have proved that to me from the moment I arrived on campus. But College GameDay provides us a platform to show the rest of the nation what makes University of Kentucky basketball so special. I personally invite all of our fans – from across the Commonwealth and beyond – to join me and members of the Big Blue Nation at Rupp Arena to show everyone that the greatest tradition in college basketball is alive and well in Lexington, Kentucky."
Will you be one of the lucky 23,000? Can you brave the daunting ticket lottery or withstand a possible Ticketmaster shutdown?
This event, like Big Blue Madness every year, will probably sell out within minutes. It'll be the hottest ticket in February.
And with Valentine's Day just the day after, there really isn't a better gift for the love of your life … if they love the Cats.
Just make sure you get a ticket. Wouldn't want to miss another milestone, would you?