Women's club polo team gallops to top spot in the nation, defeats Cornell 14-12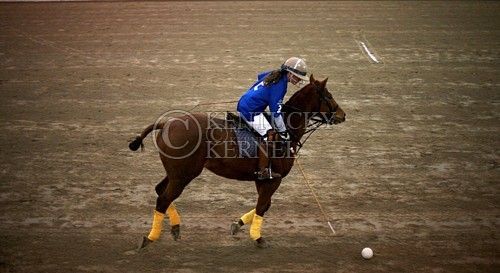 On a frigid Saturday evening at the Kentucky Horse Park, the sound of commendation outweighed the cries of cold weather from the spectators of one UK sport.
The women's club polo team defeated top-ranked Cornell 14-12 to conclude a hard fought clash of titans on horseback and, consequently, spring the Cats into the No. 1 national ranking.
Anticipation clouded the arena prior to commencement of the polo club's match vs. Cornell University, the only collegiate team officially sanctioned by the NCAA. UK executed routine practice regiments and remained concentrated in the weeks preceding the match, head coach Jorge Vasquez said, but the opportunity to defeat a team like Cornell was enough to maintain his team's enthusiasm and excitement.
After mounting an early lead on Cornell, the Cats found themselves tied 7-7 following the second chukker, which is essentially halftime for the popular British sport.
"We had a lot of confidence in ourselves, even after losing the small lead," Vasquez said. "A few mental mistakes were made that we could have avoided but, overall, the girls did a tremendous job of focusing on the task at hand."
Following the halfway mark, UK hit its stride, outscoring the Big Red 7-5 in a match team members claim to be the largest win in program history.
"It seems that every time we play (Cornell) we go up before the half and then somehow end up losing the match," said Courtney Asdourian, a secondary English education sophomore from Baltimore. "The fact that we were tied worked to our advantage because it kept us motivated."
Meghan Shader, an equine management sophomore also from Baltimore, led the team in scoring with seven goals. Four of Shader's goals came in the third chukker. Asdourian contributed by scoring six goals.
The UK victory snapped a 12-win, undefeated season for Cornell University, which was led in scoring by junior Lizzie Wisner, who is a former teammate of Asdourian.
A convincing goal by club president Cary Campbell, a family studies and health promotion junior from Richmond, Va., with only a few seconds remaining in the match added an exclamation point to the end of the Cats' proudest moment in club history and allowed celebration to begin.
"It looks like we'll be having another dance party in the barn tonight," Asdourian said. "Its time to turn the music up loud and enjoy this."