Cats shine amidst MSU immaturity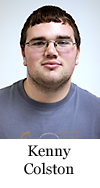 What does it mean to be "mature"?
I'm serious, considering we've heard the word tossed around so much, especially at this UK basketball team.
DeMarcus Cousins is considered immature if you listen to certain analysts and NBA scouts. He lets his temper rule him and he's a child — the two main complaints against the stellar freshman.
On the other hand, John Wall is mature, so they say. Yet, Wall looked like a big baby in the loss to South Carolina. He also doesn't get hammered like Cousins does in the paint.
South Carolina's Student Government was immature for passing a resolution claiming dominance over UK. Big Blue Nation's overreaction was supposedly not.
But Mississippi State fans, I believe we can all agree, are very immature.
The racial and homosexual slurs directed toward Cousins, thanks to some idiot that posted the forward's cell phone number on a message board, were only the start. The end? Water bottles were thrown at UK players during overtime of Tuesday night's game.
UK head coach John Calipari did his usual public relations trip after the incident, singling out only a select few instead of an entire fan base.
"And their fans were terrific," Calipari said. "The stuff at the end is just unfortunate. And let me say this, that was probably 15 people in the whole building, out of 12,000, that were idiots."
But it was more than just 15 dumb kids. Cousins received about 100 phone calls and close to 1,000 text messages, he said.
In short, if Mississippi State didn't have a reputation for the worst fans in the Southeastern Conference, they do now.
The facts of the game — and UK's horrible play — aside, only one university can be proud of the events of Tuesday night.
I'll give you a hint, it's not the school with "state" in the name.
On the other hand, the Cats had to make everyone from the bottom on up proud. They squeezed a victory out of nowhere and relatively held their emotions in check, despite every possible provocation in the world in their faces.
And Cousins, save a few "call me" signals, was well-behaved.
"Every game we play, we grow up a little bit," Cousins said. "We're maturing as a team and as individuals. So, we came in and we knew what we had to do."
It's hard to argue with the big man, especially considering the environment the Cats played in and the problems Cousins has run into before.
Cousins could have elbowed, forearm-shivered or trash-talked his way to a technical foul like he has previously, but he did not. He stayed calm, had fun with the whole thing and stayed out of major trouble.
No one even tried to accuse the big guy of slugging him in the face, either.
So maybe Cousins, and in turn the entire team, is growing up a bit.
With two weeks left in the regular season, it couldn't come at a better time.
Maybe every fan base should get ahold of Cousins' phone number. Instead of enraging him, it softens him up a little bit.
And in the end, it helps the Cats continue toward a common goal:
Calling their own number — eight.