Steady Henderson guides Cats in second year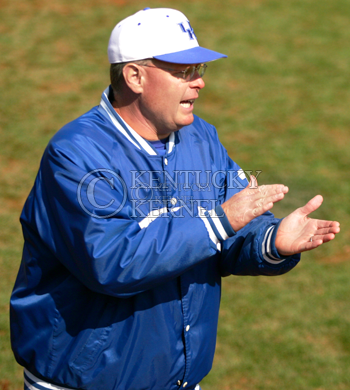 After a heartbreaking end to the 2009 season in which UK barely missed the Southeastern Conference tournament, players aren't looking for personal redemption heading into the clean slate that is the 2010 season.
Instead, they're fixated on getting there for the coaches.
"We're trying to give the coaches what they deserve," junior second baseman Chris Bisson said. "Not making it last year was devastating for them because they care the most. They get up early in the morning and stay up late at night thinking about how they can get us where we want to go."
Where the team wants to go this year is the SEC tournament. The man looking to guide them to that destination is second-year head coach Gary Henderson.
In his first season as head coach, Henderson said he saw plenty of learning opportunities during a 28-26 campaign that saw five freshmen receive major playing time and injuries decimate his bullpen.
"Last year was every bit as challenging as I thought it might be," Henderson said. "Things come up that you wouldn't have anticipated. You really can't prepare for everything that happens that first year."
Henderson will still be the same bespectacled coach in the same UK jersey in his second year. Not much will change.
But that doesn't mean he will forge blindly ahead, oblivious to improvement. That attribute — the willingness and capacity to improve — is a staple of the program that he instills every day in his players.
"We want to have kids show up on a daily basis working on getting better," Henderson said. "Baseball skills get better over time. You have to pound and grind to improve."
It's a mindset the players feel from the moment they first lace up their cleats for the program.
"As soon as you get here, whether you're a freshman or a senior, he expects you to bring your 'A' game," Bisson said. "If you take a bad practice, it's polluting the environment. That's instilled in everyone, regardless if you're playing or not."
Henderson said he wants to communicate, instruct and manage frustration better this year. Bisson said Henderson's steady approach provides a solid foundation for the team.
"Poised," Bisson said of Henderson's coaching. "Poised and confident and aggressive. You will never see any of us out of control, at the plate, on the mound. And that's a reflection of him."
If the baseball team's mindset really is a reflection of the skipper, it's a reflection of which the team can be truly proud.
"Everything starts with the coaches," Bisson said.  "This team has good chemistry, good camaraderie. It starts with the coaching staff and spreads to the players."
Senior catcher Marcus Nidiffer has seen Henderson throughout the spectrum of Henderson's UK coaching career. Before ascending to the head coaching spot in 2009, Henderson worked with the pitching staff. Nidiffer says Henderson has what it takes to guide a team through the grueling grind of a long baseball season.
"The mental side of baseball is the most important part, and (Henderson) absolutely crushes that part of the game," Nidiffer said. "In baseball, a game of failures, your mind is going to get worn down, but you have to stay strong. He does a great job with that."
And when the grind of the long baseball season takes place in the particularly harsh SEC?
"He prepares you for what the conference is going to bring," Nidiffer said. "He gets you ready for the 3,000 people you play in front of every night. You're on a stage, and he helps you learn from that environment."
But Henderson may have learned a little bit himself.
"Any time you spend a year going through a job, getting a year of experience, there are things you learn," Henderson said. "What you learn is that you are constantly in the business of motivating and educating kids."
Home opener postponed
As announced Tuesday, UK's home opener against Murray State, originally scheduled for Wednesday afternoon at 4 p.m., has been postponed due to possible inclement weather.
The game has been rescheduled for 4 p.m. on March 15. UK (3-0) will resume its season on Friday at 4 p.m. with a home game against Bowling Green.