CentrePointe opens for first major public event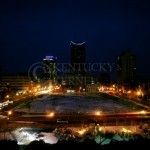 That large hole in the middle of downtown Lexington will be filled with music and celebration for one day in March.
CentrePointe, the development project for a hotel building announced in 2007, has yet to begin construction, leaving many Lexington residents wondering what would become of the space. On March 13, the Alltech Lexington St. Patrick's Parade & Festival will fill the void with food, drinks and activities to celebrate Irish culture.
Bill Enright, a member of the event committee for the festival, said the Bluegrass Irish Society approached the Webb Company, the CentrePointe developers, about the possibility of using the empty space.
"We looked into the idea and Dudley Webb and his staff met with us," Enright said. "We discussed all the technicalities, the regulations and laws … they agreed we met all the requirements and wished us well and wanted to support this free family activity."
Webb declined to comment.
When the project was announced in early 2007, Webb said there was a good chance it would be completed in time for the 2010 FEI Alltech World Equestrian Games. In Jan. 2009, Webb said construction was expected to begin in the spring and he expected the project to be completed by 2011.
The plans for the building involved the demolition of several buildings including The Dame and Mia's. The construction was met with much controversy from the public, including current vice-mayor and candidate for mayor Jim Gray.
Although Enright said the Webb company was very gracious to allow the use of the space, Gray still believes the project was a mistake to begin with.
In an e-mail to the Kernel, Gray said opening CentrePointe for the festival does not negate the actions taken over the past two years.
"Temporarily allowing folks to use the space for public events does not change the fact that this project was started with no chance for success, and (Mayor Jim Newberry) encouraged the Webb's irresponsible planning at every turn," Gray said.
Because CentrePointe is privately-owned, Gray and Enright said it is ultimately Webb's decisions what to do with the land. But Gray hopes the end result is something the residents of Lexington can enjoy and benefit from.
"The CentrePointe property is in the heart of downtown, and its success or failure will impact Lexington for years to come," Gray said. "It is vital that whatever happens there helps grow Lexington and makes our city proud."
Enright hopes the first major public event to take place on the property will do just that. The festival will take place from 11 a.m. to 7 p.m. with a break at 1 p.m. for the parade. Enright said though the focus of the celebration is Irish culture, all are welcome to attend and enjoy the use of the space.
"We invite all ethnicities in the community to come and celebrate their roots as we celebrate ours," he said.