UK great Dawson finalist for Canton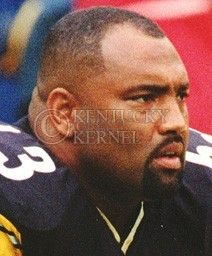 UK football great D Find My Ex Girlfriend ermontti Dawson will have another shot at football immortality this weekend.
For the second consecutive year, Dawson is a finalist for the Pro Football Hall of Fame. He'll find out if he received the necessary 80 percent of the vote to be inducted into Canton when the results are announced at 5 p.m. Saturday.
"That is the ultimate accolade for any NFL player," Dawson said. "That would be the ultimate reward."
Of the 18 finalists, only wide receiver Jerry Rice and tailback Emmitt Smith are considered locks. But beyond those players, Dawson is in the middle of what many pundits consider a wide-open field.
After a standout career as a lineman at UK from 1984-87, he was drafted in the second round of the 1988 NFL draft by the Steelers. He spent his entire career in Pittsburgh, earning seven trips to the Pro Bowl and six All-Pro selections as a center. He retired in 2000.
Come Saturday, however, Dawson won't be waiting by the phone to see if he gets the call from Canton.
"It's just going to be a normal day for me," Dawson said. "I'll probably just be sitting at home on Saturday. … All you can do is just lay the foundation and hope. It's just a matter of time and you have to be patient. I can't control it."
Dawson is currently serving as a member of UK's Board of Trustees and had been working with a commercial development company in Lexington. Now, he's trying to return to pro football as a scout.
Although football has played a big role in his life, Dawson said he doesn't feel he needs to be selected for the hall to validate his career.
"I wouldn't need that as validation because I know how I was as a player, and that I gave 100 percent," Dawson said. "And that's all the validation I need."
More: Find My Ex Girlfriend