1 year later, the Cats are back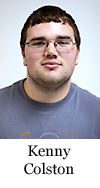 UK fans, feel free to rest easy because your team is officially back on top.
No, not in the rankings — that only lasted a week.
But look at the flood of e-mails, text messages and mass of information out there about the Cats. There isn't a national or local writer who hasn't talked about the return of the Cats at some point this year.
They have been on magazine covers, in Player of the Year and Coach of the Year conversations. The overall feeling is that the Cats are back.
That's because they are. You read about it everyday. UK merchandise is propping up the local economy. UK head coach John Calipari hosted a telethon that has been one of the biggest fundraising efforts for the Haiti crisis. And John Wall is a blue-colored alcoholic drink in most bars in Lexington.
The fans of other teams try to trash UK any chance they get. The student governments of opposing schools pass resolutions celebrating victories. It seems everyone wants to take a shot at the Cats and if they succeed, throw a parade.
Isn't that a measure of one's standing?
It won't be long before UK is back at the top of the rankings for longer than a week.
But with a year having passed from the moment UK started its downward spiral — the loss at Mississippi — the turnaround that has happened is amazing.
This time last year, UK was far from on top. The free-fall was the epitome of a train wreck. We all watched, knowing it was a horrific sight.
This time this year, UK is ranked in the top five. They have four players that could be drafted in the first round this year, not two. And the bench has good NBA possibilities.
The coach is an ambassador in every sense of the word. The program has already surpassed last year's win total.
Are there bumps in the road? Yes. There have been close games that shouldn't have been close. DeMarcus Cousins likes to practice his mixed martial arts moves from time to time during games and there was the loss to South Carolina.
But those are better problems to have than a jealous coach, multiple losses that make people wonder and the roller coaster that embodied the final year of Billy Gillispie.
This time, when opposing fans trash talk, it's out of envy, not truth. This time the articles are mostly praise, not criticism.
This time, everything is better for Big Blue Nation.
Remember that the next time the Cats lose. Two losses are better than ten.
These Cats are back on top. The proof is everywhere. The only thing left to do is to validate it with hardware. That will let everyone else know the truth.
The Cats are back.
Kenny Colston is a journalism senior. E-mail [email protected] com.