Cats need more production from Miller for a championship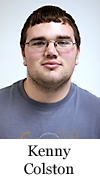 It's Miller time.
No, I'm not talking about the Miller you're thinking about.
This Miller was once named Mr. Basketball in one of the most-crazed basketball states in the nation.
This Miller was touted as the returning player from last year's squad who could master the dribble-drive offense quicker than the rest.
This Miller was going to launch into the skies as a scorer — he just wasn't going to be stopped.
But this Miller, as in sophomore Darius Miller, has yet to show up.
In four of the last five games, Darius Miller has failed to score.
This Miller was a starter. Darius Miller, as of now, is not.
"I really just try and come out and play the same way," Miller said on Feb. 5, a day before the Cats faced Louisiana State. "I really don't look too much into it. We're still winning games. So I'm happy."
You see, the Miller everyone expected at the beginning of the season wouldn't have said that. Or at least we didn't think he would.
Is it the politically correct, public relations answer? Yes, but if Miller had any fire in his belly or any desire to be a better basketball player, then he would have voiced his displeasure with being benched.
There is no doubt that this UK team is good. But it is truly missing  what Miller should be providing — double-digit points and over five rebounds per game and lots of hustle plays.
Darnell Dodson is a lot of offense, but a defensive liability. Starting DeAndre Liggins, known more for his defense and hustle (lump Ramon Harris in the same boat), is a gamble because he usually lacks offensive production.
All three are role players who should provide their specialities off the bench.
Ideally, Miller should have the fifth starting spot. He can score, he plays solid defense and he rebounds well.
But Miller isn't playing up to par. He's not progressing and it could be argued that he is actually regressing. As UK plays more tournament-bound teams, the lack of Miller time is going to be a larger problem.
So what's the fix to Miller's lacking contribution?
"Some of it you have to be a tough hombre and you got to work your way through it," Calipari said of Miller after UK's 66-55 win over Alabama. "You have to get in the weight room, you have to spend extra time, you've got to get on the court, you have to get with your coach and keep saying, 'Coach, I'm telling you, I'm going to be fine.' You have to convince yourself and get in there and do it."
Maybe Miller is just biding his time, letting the Big Four (DeMarcus Cousins, John Wall, Patrick Patterson and Eric Bledsoe) carry this team to the NCAA tournament and then exploding.
That's what the Miller with the boatload of expectations would do. As the former Mr. Kentucky, he is the one kid on this team who has a real shot to go from a Kentucky high school to the NBA.
Maybe Miller is experiencing what's commonly referred to as the sophomore slump. So far, UK has been able to withstand the slump with minimal damage.
But if this team wants to win a National Championship, it's going to need five well-rounded starters. Miller would be that fifth guy.
Time to break out of the slump, homegrown kid.
And declare it Miller time.