Sigma Kappa closing down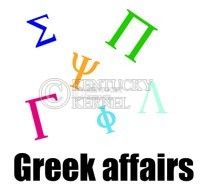 After 20 years on campus, one sorority chapter will be closing its doors.
The UK Theta Rho Chapter of Sigma Kappa will no longer be operational as of May 8, according to a news release from Sigma Kappa national headquarters. The decision to close the chapter was due in part to low number of members.
"Following an extensive public relations campaign and multiple informal recruitment events, it was determined not enough of the many factors required to sustain an effective chapter were present," the release said.
UK spokeswoman Gail Hairston said the decision to close Sigma Kappa was a completely internal decision and the university supports the sorority in all its efforts.
"It was a choice between the local chapter and national headquarters," Hairston said.
It is unclear what will happen to the Sigma Kappa sorority house, located at 325 Columbia Terrace. Hairston said it is too early to tell what will become of the house and meetings will need to take place to discuss the future of the location.
Susan West, assistant dean of students and director of fraternity and sorority affairs, said in an e-mail to the Kernel the Greek community was saddened by the loss of the sorority on campus.
"The chapter has contributed leadership, service, and most of all, lifelong relationships within our university community," West said. "We respect the current members and their decision to leave a legacy of fond memories and the knowledge that they made a difference on our campus."
Sigma Kappa UK chapter president Lindsey Maggard declined to comment. National headquarters could not be reached for comment by press time.