African Student Association offers a 'Taste of Africa'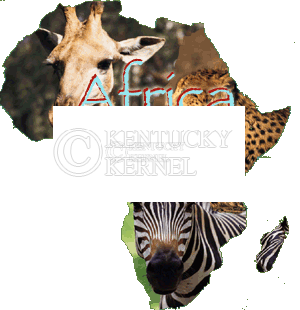 By Erin Shea
Breaking a stereotype and opening up a new cultural world is the goal one student organization has for campus Wednesday night.
The annual Taste of Africa event, put on by the African Student Association, will be showcasing African culture for UK students, faculty and staff.
"Africa Redefined" is this year's theme, said President of the African Student Association and economics junior Chibale Zulu. There will be slideshow presentations, drama, poetry readings and much more, Zulu said.
"After surveying students, we have noticed that people have the wrong perception of Africa and its people," Zulu said. "There are several stereotypes that exist in the minds of people and it is our goal to rid them of these misguided stereotypes."
Zulu was born in Zambia and raised in both Zambia and Ethiopia, and feels a need to share his culture with his peers. Since coming to Kentucky in 2007, he said he has had a chance to see his friends' culture here, and now he wants to share his and help people get the best perception of his life back home. Zulu said when comparing the two cultures there are many similarities. Zulu said people need to know the truth about African lifestyle, and know what they see about Africa in the media is not always accurate.
"If people experience the event they will see how Africa's many perceptions given on the media are far different from how life really is," Zulu said.
For many students, this presentation will be a once-in-a-lifetime experience, Zulu said, and it's important to learn about the many cultures represented at UK that contribute to our diversity. He encourages all to come out and said the night will greatly increase the amount of knowledge that people have about Africa.
"Not only are we going to showcase the better side of Africa but also the truthful side," Zulu said. "Whether rich or poor, positive or negative, we want the ignorance to be overcome with the truth."
The event will be held from 6 to 8 p.m. in the Student Center Grand Ballroom. Admission is free and food will be provided.