Cats use Kapteyn's long balls to avoid series sweep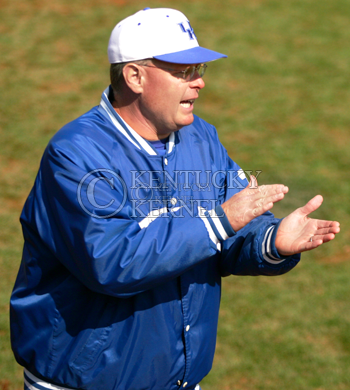 UK used a barrage of long balls and a dominant start from Alex Meyer to bury Mississippi as the No. 20 Cats (15-5, 1-2 Southeastern Conference) earned their first conference victory of the year.
The Cats hit a trio of three-run home runs en route to a 12-3 rout of the No. 19 Rebels (15-5, 2-1 SEC) Sunday.
Sophomore DH Braden Kapteyn led the power surge from the plate. He twice stepped up to the plate with two men on and launched bombs, which easily cleared the fence. He finished the day 3-for-5 with two home runs and six RBI.
"I saw the ball well, tried to put some swings on it, and the ball was flying," Kapteyn said.  "One of those days you see it big.  They come and go, but today was definitely one of them."
UK head coach Gary Henderson was pleased with Kapteyn's performance at the plate.
"What I really wanted to see him do was swing at strikes," Henderson said.  "That's the first thing.  It gave him a chance for solid contact, and he got that."
Kapteyn's first home run, in the first inning, set the tone for the rest of the game.  It gave UK a quick 3-0 lead and was a sign of the power to come.
By the time his second home run had cleared the high wall in right field in the sixth inning, UK held a 12-1 lead that secured its first SEC victory of the year.
"The power production in the middle of the lineup is huge," Henderson said.  "And I was very glad they showed up.  I thought we had much more aggressiveness at the plate, we had much better pitch selection and obviously we had some timely hits."
Senior outfielder Keenan Wiley got in on the slugfest with a three-run, no-doubt home run of his own in the fifth inning.  Sandwiched between Kapteyn's two home runs, Wiley's round-tripper came off a brand new pitcher for the Rebels, who couldn't stop the UK launch party.
"I saw the same guy yesterday, and I feel like he got lucky getting me out yesterday," Wiley said.  "I felt confident going to the plate against him today.  I was happy when I saw him coming in."
The win carried extra importance because it prevented a sweep in UK's first SEC series of the season, which would've put them in an early hole to start conference play.
"You get swept at home, it makes it really hard at the end of the year," Henderson said.
The rolling offense made things easy for sophomore starter Meyer.  He threw five shutout innings to start the game as he saw the lead continue to build.  He finished after tossing 6.1 innings and giving up three runs.
"I had a chip on my shoulder," Meyer said.  "It felt good to go out there, and I felt confident all week.  My fastball command was a lot better today, and I was putting pitches where I needed to today."
Meyer's command was on full display.  Known for the occasional wildness, Meyer struck out 10 and allowed four walks while humming through the line-up.  In what he said was his best start of the year, he threw 108 pitches and left the game with a smile on his face.
"It was good to get the quality win in my first SEC game," Meyer said.  "I feel like I'm just scratching the surface, but I think I can build off of today."
Meyer was able to prevent the sweep, asserting himself as capable of being the front-line SEC starter UK hoped he could be before the season began.
"That was the biggest thing, was for Alex to go out in a conference game and establish himself as the guy," Henderson said.  "And he was dominant.  And that's kind of our feeling for the way he should perform."