Fire marshal recommends closing of SAE house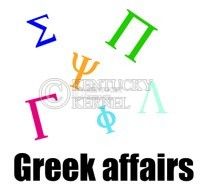 Following an incident over the weekend where a student was wrapped in toilet paper and set on fire, UK Fire Marshal Greg Williamson has recommended the Sigma Alpha Epsilon house be closed for two semesters.
UK Police Chief Joe Monroe said police found a student wrapped in toilet paper like a mummy after responding to an alarm early Saturday morning. Sean Dunn, an international studies sophomore, took out a match and lit the toilet paper on fire, Monroe said.
According to the police report, the victim was in flames up to his shoulders. When he realized he was burning, he performed the stop, drop and roll technique, which set the carpet on fire. The report says that when Dunn saw the carpet on fire, he began to stomp out the flames. After the fire was extinguished, Dunn attempted to clean up the fire damage with toilet paper.
"We don't believe it was (hazing), nothing has led us to believe it was hazing," Monroe said.
Monroe said the victim had no injuries and needed no medical treatment, but he had singed pants.
Monroe said Dunn sustained first-degree burns on his hands and was charged with first-degree arson, first-degree wanton endangerment and tampering with physical evidence.
"Obviously they used poor judgment which was clouded by the use of alcohol. We did find numerous alcohol violations in the building," Monroe said. "We will probably wrap (the investigation) up in the next few days, and we will turn it over to the Dean of Students for their investigation."
Dunn declined to comment on the investigation.
When officers were making sure everyone was out of their rooms, they came across a locked door and retrieved a key to enter, Monroe said. When police entered the room, a fight occurred, which led to police charging international studies junior Joe McKinley with third-degree assault of an officer.
The Dean of Students Office has shut down the fraternity following an order from its national headquarters to suspend all of SAE's fraternity-related events, and the fire marshal has recommended the fraternity house be closed until January 2011.
Williamson said numerous violations occurred inside the house, including doorways severed and covered with sheets, beds enclosed and too many candles.
"There are violations in all houses … if you find one or two violations, it's not that big of a deal," he said. " … but if you find 40 or 50 of them, you have a problem."
The house passed an inspection in the past week, Williamson said, but the violations were not visible during that inspection.
"It was not the incident that got the house (closed)," Williamson said. "It was the incident plus the condition of the house."
SAE has revoked Dunn's membership, and the fraternity's headquarters is investigating the incident, according to the SAE Web site.
Dunn's arraignment is scheduled for Wednesday at 1 p.m., and McKinley's is scheduled for Thursday at 1 p.m. UK Police and the fire marshal will share reports with the Dean of Students to determine whether or not the fraternity will return to campus.