[SLIDESHOW] Cats escape Big Red with 62-45 win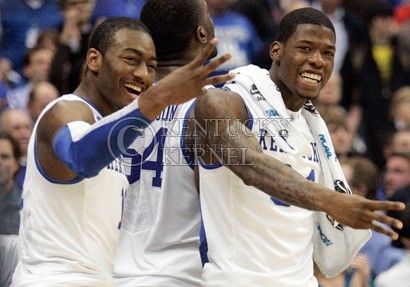 The Cats closed the half on a 30-6 run, with their offense and defense clicking on all cylinders. UK's tight man-to-man defense produced nine steals on Cornell's 12 first half turnovers. UK's offense dished out 11 assists for it's 14 first half field goals.
"We came out and played with some tough defense tonight," freshman forward DeMarcus Cousins said. "I've never seen us go at people like that. We did a pretty good job but we should have come out in the second half doing the same thing, but we came out slow."
A sloppy second half saw the pro-Cornell fans in the Carrier Dome creep back to life and Cornell creep back into the game. UK scored just four points in the half's opening 11:53, and the Big Red cut the once 17-point UK lead to eight with 8:48 showing on the clock.
The Cats stuck to their gameplan of feeding the big men inside, outscoring Cornell 36-12 in the paint. But UK struggled at the foul line, going 16-26 at the charity stripe on the night. UK iced the game in the closing minutes though, going 14-16 at the line in the game's final 4:32.
After having their lead cut to six with 5:42 remaining, UK built the lead back to a dozen with a 6-0 run. A 3-pointer by Cornell senior forward Ryan Wittman with 3:45 to go brought the Big Red back to within nine, but it was not enough.
"You lose in the regular season and it's OK, you're going to get better from that," Wall said. "You lose here, it's your season."
UK closed the game on a 16-8 run and will face West Virginia on Saturday in the NCAA Tournament quarterfinals.
"I'm just enjoying the moment with my teammates," Wall said. "Like I said, this could be all our last times playing together with a talented team like this so why not try to win it all? Like I said, it's not going to be easy, it's not going to be cruise control. We have to keep getting better and listen to what Coach is telling us."