Column: Fans should be proud of Calipari's first season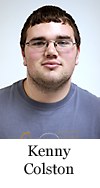 For the last few days, things have been rough.
People are walking around campus in dark clothes, hoods up and eyes down. The only thing cutting through the solemnnity is the wind whipping around Patterson Office Tower.
There's no joy or celebration, even though spring is here and Keeneland opens on Friday. It's like a notable figure suddenly died and, like in the ancient Roman and Greek days, we are having a week of mourning to hail the tragic loss.
So who passed? Achilles? Odysseus? Another great warrior or king?
That's the only explantation I can think of in regards to the all black attire, sad faces and general heaviness that has plagued UK's campus for the last several days.
Wait? The men's basketball team lost on Saturday, you say?
They made it to the Elite Eight, didn't they? First time in five years for that, right?
Well then why is everyone so sad?
I'm kind of surprised Lexington didn't throw a parade.
It's time to change back into the spring colors, soak in the sun and enjoy what's happened in the last year. After five years of downfall, the Cats are back. Blue is back.
Let's take a quick look at some milestones UK achieved this year alone:
-The first to 2,000 wins.
-Winning its 44th regular season conference title and its 26th conference tournament title.
-Reaching the Elite Eight for the first time in five years
-Having two freshmen (John Wall and DeMarcus Cousins) named All-Americans, a feat no other school has ever accomplished.
That doesn't even touch the many exciting games, Big Blue Madness, the John Wall dance (and shots, shots, shots, shots, everybody! Sorry, got carried away), and watching this team excel against all odds breaking records and carving a path that will never be forgotten.
So, remind me, why is everyone so sad again? No national title? Ah, I see. But thinking on it, was this year really the year to go for banner No. 8?
Think about it: Tubby Smith won No. 7 in his first year on the job. For the remaining 10 years he coached at UK, he could never top what he did in his first year. How do you top a national title? You can't.
Smith eventually left because he achieved his top goal in his first year. Years 2-10 were always in that shadow. It's an awful way to have to coach.
Do you want the same problem with John Calipari?
So everyone, listen up. Remove the funeral garb. Spend the next couple of weeks walking around campus with a smile on your face. Head over to the Johnson Center and hope the UK basketball team has wandered over to shoot hoops with the commonfolk (like they did on Tuesday) or hang around the blue courts between the Craft Center and Wildcat Lodge.
Enjoy Patrick Patterson, DeMarcus Cousins, John Wall and the rest. It may be the last time you see these UK legends.
Buy up jerseys, posters, books, whatever you can get your hands on. You'll regret not doing so in a few years when the reality of this team's purpose sets it.
Because this year isn't a one-time thing. It's not like UK has a bad coach who got lucky with a few kids and made a run.
UK has real talent, both on the sidelines and on the court. And if there is a mass exodus of players from this year's squad, you can rest assured that a whole new batch of superstar freshmen will take their place.
The Elite Eight isn't going to be a possibility every year, it's going to be a destination. And a national title will come in due time.
Players come and go. That's why fans buy jerseys and posters to remember them.
"There's always next year" is a familiar saying for many fans who have teams with subpar performance year in and year out.
The difference is, UK fans can say "there's always next year" and know that could mean a national title.
That's something to smile about, isn't it?