UK starts car rental program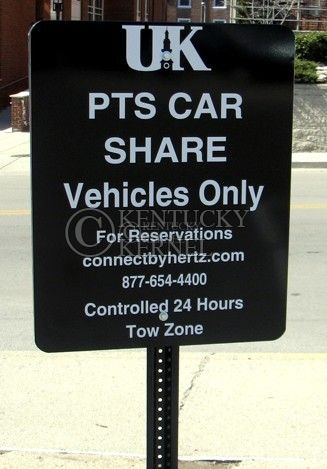 Those on campus needing a lift may not have to wait for the bus anymore. Instead, they now have the option to swipe a card and hop in a Mini Cooper to run their errands.
UK Parking and Transportation Services unveiled the UK Car Sharing Program beginning March 22. Teaming up with Connect by Hertz, students and employees can sign up for a program that offers car rentals right on campus.
Car sharing has been popular in Europe for many years, said Director of PTS Don Thornton, but has only grown in the U.S. over the past 10 years. As more car-sharing programs developed, Thornton said they realized students were excluded from the opportunity.
"We were looking at car sharing programs and they pretty much eliminated a lot of students — the 18-, 19- and 20-year-olds — and that's the group we wanted to target," Thornton said. "As the systems grow and develop, a lot of universities and colleges involved have lowered the age limit to 18."
Because of the significant number of students on campus without cars, Thornton said he expects the program to be highly used. At the last survey, Thornton said about 35 percent of freshman did not have cars on campus, and even those students who do may find it inconvenient.
"If you bring your car to campus and it's parked in an R-Lot or K-Lot it just sits there," he said. "If you only drive your car once or twice a month, why even bring it and have to deal with it? If you need a vehicle, all you have to do is become a member (of the program.)
"I may even have to try out that Mini Cooper myself," Thornton joked.
The UK program requires the applicant be at least 18 years old with a valid driver's license and a good driving record. Hourly rates range from $8-10 depending on the car, and gas, insurance and a GPS system are included.
PTS spokeswoman Chrissie Balding-Tune said while helping out students without personal transportation is the goal, other students can benefit as well.
"We are targeting students who don't have cars at all on campus, but it's also for people who … want to get a group of friends to carpool to New Orleans to see the Cats play, you can all go in together," she said. "Or people who use alternate forms of transportation, maybe you have a meeting and don't want to show up all sweaty from riding your bike, so you can rent a car for the day."
Schools like Ohio State University vary the cars available based on the time of year, something UK hopes to replicate, Balding-Tune said. During the beginning and end of the semesters, she said the department wants to have trucks available for students moving in and out who may need the extra help.
Thornton said car sharing has environmental as well as economic benefits. The cars are all Environmental Protection Agency SmartWay certified green vehicles, such as a Ford Escape, a Toyota Camry and a BMW Mini Cooper.
"It's less expensive for students and their parents because insurance for young people is very expensive," Thornton said. "It gives you the opportunity to save on gas, maintenance, insurance — all that is taken care of."
The basic membership includes a $25 application fee and a $50 annual membership fee, but both fees will be waived for the first year for people who enroll before May 15. More information on the UK Car Sharing Program and the online application are available at www.uky.edu/parking/car-sharing.html.