Greeks look to fight child neglect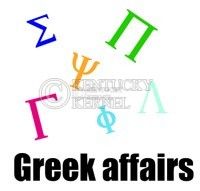 By Neal Bassett
UK Greek Intervarsity is teaming up with an international organization on Wednesday night to create a better future for children.
Viva, a non-profit organization, works with local networks to eliminate deprivation, exploitation, abuse and neglect for children, according to its website, www.viva.org. UK Greek Intervarsity first joined with Viva in December 2009 and UK is the first school to have partnered with Viva.
UK Greek Intervarsity alumni adviser Anthony Humphress said philanthropy events like Viva are vital to the Greek community on campus.
"It is important to Greek students to attend this event because they have a lot of influence on non-profits," he said. "Whenever we can give back it's great for the students and children involved."
Humphress said the event on Wednesday is an opportunity for members of Viva and UK Greek Intervarsity members and volunteers to get together and get to know one another.  He said the event is a kick-off for a future event in September where they can implement the strategies they develop Wednesday night.
Humphress said bringing representatives from the organization to campus is a great opportunity for students to get an idea of what they can do to help.
"This event gives Viva a chance to tell us their goals and what they need and allows us to help them achieve that," he said.
The event will feature a video from the International Director explaining how the UK Greek community can help and how they can team up with Viva, as well as a Q&A session.
According to Viva's website, these kinds of events are an effective way of building relationships, practically resourcing and equipping people and developing new ideas and strategies. Viva is also partners with more than 43 Christian networks with 8,000 members to help take care of more than 1 million children.
Humphress said a similar event last year had about 400 people in attendance. He said he would like to continue that support this year as well.
"It would be great to have a turnout like that, and to have a representative for every house present," he said. "The best way to get involved is to come to this event."