Professor honored for new work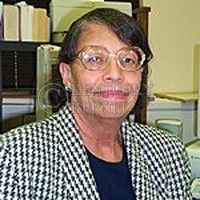 One UK professor has taken her pioneering work into the national spotlight.
Doris Wilkinson, a UK sociology professor, has been chosen as the recipient of the  "Public Understanding of Sociology Award" by the American Sociological Association.
Wilkinson, a 1957 UK graduate who returned in 1985 as faculty, was chosen for the award based on an array of activities, research and awards that have contributed to a career that promotes the public understanding of sociology.
Wilkinson's social and cultural history exhibits consist of text, photos and cultural artifacts.
"I present the discipline of sociology to the public through social and cultural history exhibits, social science research writing workshops, faculty panels and public presentations," Wilkinson said.
Wilkinson said she focuses on bringing out a sociological understanding of race and ethnic relations, class and gender, occupations and professions, and social change and social movements on university campuses.
She gained national attention in 1988 with her first humanities-designed exhibit on African-American physicians entitled "Forgotten Pioneers in a Southern Community." The exhibit was displayed at Harvard University and at many state and national libraries and museums.
Since then Wilkinson has designed many exhibits as a tool to educate the public. Her works have been seen at Transylvania University and in the W. T. Young Library, as well as nationally.
Wilkinson's research and writings have also gained national recognition. Some of Wilkinson's work has been published in "Imagine a World: Pioneering Black Women Sociologists."
"This award means a great deal at this stage in my career," Wilkinson said. "It gives recognition for my achievements and interests."
Wilkinson's achievements include serving as President of the District of Columbia Sociological Society, President of the Eastern Sociological Society and being the founder and first director of the African-American Studies and Research Program at UK.
But despite the many hats she wears, Wilkinson said she still enjoys stepping into the classroom.
"In addition to my research I thoroughly enjoy teaching," she said. "Teaching is a fascinating career. Sometimes we forget that students are the core of what we do."
For her teaching, Wilkinson won the "Great Teacher" award in 1992 and the "Lifetime Achievement" award from "Women Leading Kentucky" in 2009.
Wilkinson sees this most recent award as a reflection of her department as well as her personal work.
"I also hope this award brings national recognition to the sociology department, which now has some very bright and young faculty," Wilkinson said.
Wilkinson will be presented the award at the American Sociological Associations 105th annual meeting in Atlanta, Ga. Aug. 14-17.