Spring football gives new players chance to step up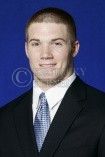 Spring affords the flowers a chance to bloom, while spring football also gives lesser-known players a chance to blossom and move up the depth chart.
With the annual UK Blue-White intra-squad scrimmage set for Saturday, the last week of spring practice and the scrimmage are the last opportunities for players to make their mark in a position battle before the summer.
One such player that made an impression last season during the Blue-White game was junior-to-be tight end Nick Melillo, who is new to the position after converting from wide receiver this spring.
"I was (inexperienced) last year, came in as a wide receiver, put on a little weight and kind of had a breakout game in the spring game with the two touchdowns," Melillo said.
For many players, a scrimmage can't be considered a breakout performance, but it was for Melillo. The Lousiville Trinity High School product who transferred from Lindenwood University in St. Charles, Mo., decided to walk on at UK.
The rookie Melillo finished with four catches for 43 yards and the pair of touchdowns to make his presence known. Melillo continued his progression as he earned more playing time over the course of the season. He went on to play in all 13 of UK's game and finished the season with five catches for 44 yards, but primarily served in the role of blocking receiver.
It was Melillo's prowess as a blocking receiver and his 6-foot-2, 234-pound frame that made coaches recognize his potential as tight end.
In an odd twist of fortune, Melillo is the only tight end with game experience this spring, but that hasn't changed his approach this spring.
"I'm still a walk-on, I still have to work my butt off," Melillo said. "Even if you're on scholarship, you're working to get better every day. If you don't work hard, you're going to get worse and the person next to you is going to get better, and you're not going to be playing anymore."
The people competing with Melillo for the No. 1 tight end spot are redshirt freshmen Anthony Kendrick and Jordan Aumiller, a converted linebacker.
Melillo said all of the players competing for the position are talented but they all need to work on their blocking.
Still, this spring is a different experience for Melillo, who became an unknown again last year after his sparkling spring game.
"I think a lot of people were surprised (by my performance last year)," Melillo said. "I'm working for the two touchdowns again, and I just think people might actually know who it is this time."