Cats hope for offensive renaissance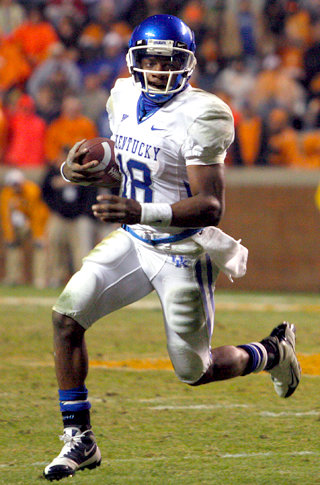 The 2006 and 2007 editions of the UK offense scored plenty of points, gained many yards through the air and on the ground, and set the bar high for subsequent offensive units.
In those two seasons, the Big Blue Nation was spoiled by the likes of an explosive offensive that averaged close to 40 points per game and was loaded with playmakers, such as Andre Woodson, Rafael Little, Keenan Burton, Steve Johnson and Jacob Tamme (the latter three play in the NFL).
Following the graduation of the 2007 senior class, there was no doubt the UK offense would have to be tweaked due to the large turnover in personnel, but the regression was more than many people expected.
"I like the attack; I did it in 2007," said UK head coach Joker Phillips, who previously served as head coach of the offense. "I don't know if people would classify me as an attacker in 2008 and 2009, but I want to be aggressive and get the ball down the field. (UK spokesperson Tony Neely) gave me a stat in 2007 that our average scoring drive was two minutes. That's attacking to me, but in the last two years we haven't been able to do that."
Once considered an offensive mastermind for leading UK to some of its most gaudy offensive numbers in school history in '06 and '07, Phillips has faced some scrutiny for the offenses fielded in 2008 and 2009.
Last season, long gone were the days of Woodson's ability to stretch the field with an aerial attack that produced a school-record 40 passing touchdowns in 2007. Instead, a passing offense, ranked 114th out of 120 Division I schools, was more reliant on screen plays and short throws.
However, the UK coaching staff and players have said that the 2010 season promises the best chance of coming closer to what the 2007 team accomplished with the ball in their hands.
"I feel like we're just as balanced as we were in '07," senior tailback Derrick Locke said. "We're going to be able to pass, we're going to be able to run and I feel like we're going to make all defenses play more equal. They've got to respect both sides of our game so it's not going to be nine in the box, if they want that, we can pass the whole game."
The balance on offense starts with Locke, an all-conference player, and fellow all-conference performer and junior wide receiver Randall Cobb. Both will be two key components in the offense's success this year, as they've been in recent seasons; especially Cobb, who has accounted for many big plays out of the Wildcat formation.
"I've noticed that we've been compared to that ('07) group a lot," Cobb said. "We're trying to progress and make a name for the '10 team."
New offensive coordinator Randy Sanders, who takes over the play calling duties from Phillips, said fans should expect to see a change with more seasoned players on the field, but shouldn't expect a radically different offensive philosophy.
"I think one of the reasons (Phillips) was comfortable keeping me around and giving me a job once he became head coach was because he was comfortable that our philosophies were the same," Sanders said.
The philosophy has worked before. The bar has been set. Scaling that bar is another task.
"I think we're closer, I really do," Phillips said. "I think we're closer than we were in '08 and '09.  I think the reason why is we're more experienced at the positions outside, more experienced at the quarterback position also."