Live blog: UK vs. Auburn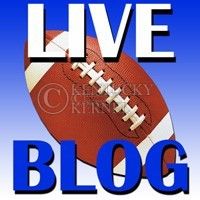 Join Kernel writers Ben Jones and Chandler Howard for tonight's UK-Auburn game before kickoff at 7:30. Auburn (5-0, 2-0 Southeastern Conference) still has designs on an SEC championship, but they'll have to get through the Cats to keep their undefeated season alive. Last year, UK had three players rush for touchdowns at the quarterback position to earn a 21-14 upset of the Tigers on the road.
But this year, UK (3-2, 0-2 SEC) is scrambling to get its season back on track during a three-game homestand after falling to Ole Miss in what many considered to be a winnable SEC road game.
The live blog begins at 7:15. You can find the game on TV on ESPN2, or online on ESPN3.
Kernel writer Nick Craddock will also be joining the blog from the comfort of his couch.